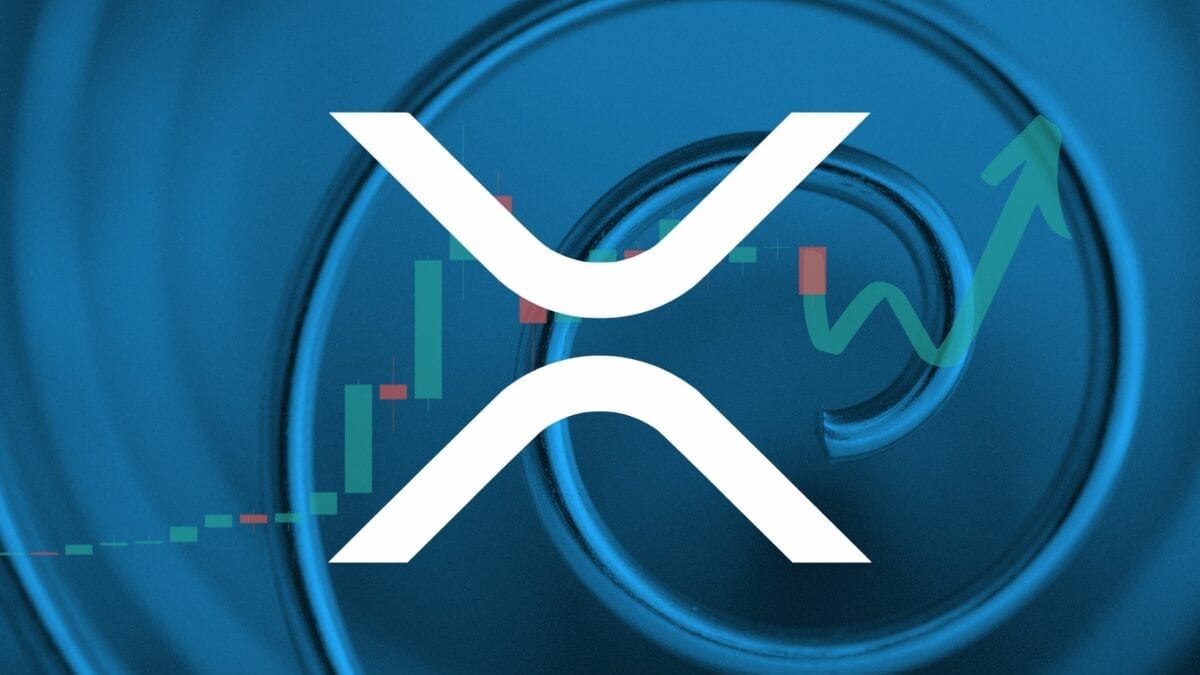 After a short burst, the XRP price is recoiling, contracting back to normal trade ranges.
Although the prevailing trend favors buyers, there must be a confirmation to the upside. If not, counter-movements will pour cold water on bulls' prospects. Judging from prevailing sentiment, traders are aiming for explosive gains above the psychological $1 level.
At the time of writing, the XRP price is trading at $0.62 versus the USD, paring losses on the last day. Week-to-date, it is outperforming the greenback, adding 29 percent.
The coin is also on a stretch against BTC and ETH, adding 11 and six percent, respectively.
XRP Price Overview
Technical candlestick arrangement suggests buyers are in control. Backed by solid fundamentals, bulls are gearing up for upswings above $1.
For this to be realized, there must be convincing gains not only above the current consolidation, last week's highs of $0.78 but above $1.
It is a psychological round number and a figure last seen during an extended bull rally when cryptocurrencies rallied to their all-time highs.
As it is, despite participants' hopium, losses below the bull flag back to $0.43 could scare away investors. It won't be the first time. Back in September 2018, the XRP price expanded to $0.82 in less than a week, more than doubling as a result.
While investors dug in, prices never retested this level until last week when XRP bulls pushed prices back to $0.78.
As such, the $0.82 level is vital for chartists. A break above this mark will set a firm foundation for gains towards $1, or more in next year.
There are firm reasons to believe this to be the case.
XRP Market Movers
The CEO of Ripple, Brad Garlinghouse, is bullish. In an interview with Julia Chatterley, he said his project could benefit from the policies that the President-elect, Joe Biden, may lay down.
One of them pertains to climate change. XRP's network is energy efficient, a bonus point. Still, it does help in facilitating cheap cross-border fund transfers.
Even so, Ripple is aware that their success is highly reliant on supportive rules. As they prepare for their IPO, the absence of clear laws hampers them from acquiring new clients.
Nonetheless, in a podcast, the General Manager of Ripple, Asheesh Birla, said they will double down and aggressively market their solutions and XRP in 2021.
Adoption of XRP via the On-Demand Liquidity (ODL) translates to more usage. With more financial institutions using the option, XRP's demand will increase, therefore, supporting prices. Central to their plans will be Azimo and MoneyGram.
Ripple completed their acquisition of MoneyGram in 2019. The money transfer firm now uses ODL and XRP rails to transfer money in some corridors.
Birla said:
With the cryptocurrency product, you can send into I believe three destinations around the world. We're expanding that aggressively in 2020 and 2021. We are going to continue to expand ODL, On-Demand Liquidity. I mentioned this in a few countries as destinations. We want to get global coverage of that where possible by the regulators.
XRP Price Prediction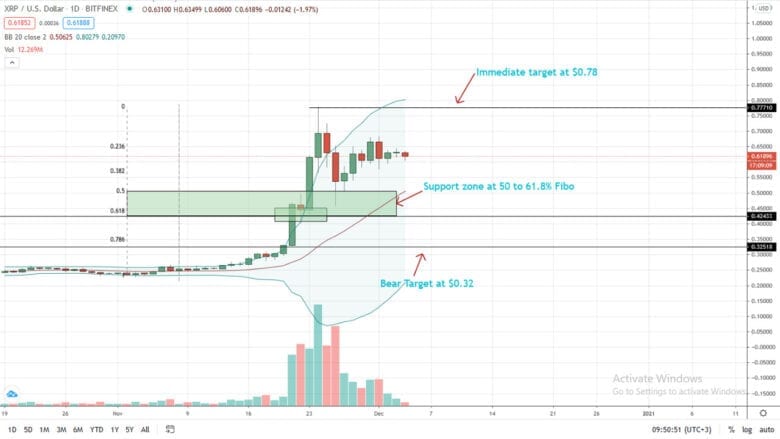 At the time of writing (Dec 4), the XRP price was still inside a bull flag.
Clear from the daily chart, XRP prices are trading inside Dec 1 bear candlestick. From volume analysis, prices must break above or below this triangle.
Losses below the support trend line and $0.55 could spark further losses towards $0.40 to $0.50 levels. These are the 50 to 61.8 percent Fibonacci retracement levels of the H2 November 2020 trade range.
On the flip side, gains above the bull flag towards $0.80—or September 2018 highs, could support bulls aiming at $1.
Ideally, accompanying this price surge ought to be high trading volumes exceeding those of Dec 1 (as per Bitfinex statistics). If not, it might be a fake breakout, and the possibility of a whipsaw will be high.
Immediate buy targets–if prices jump above $0.80, will be $1.20—the 161.8 percent Fibonacci extension level anchored on Nov 4 to Nov 28 trade range.
Disclaimer: Opinions expressed are not investment advice. Do your research.