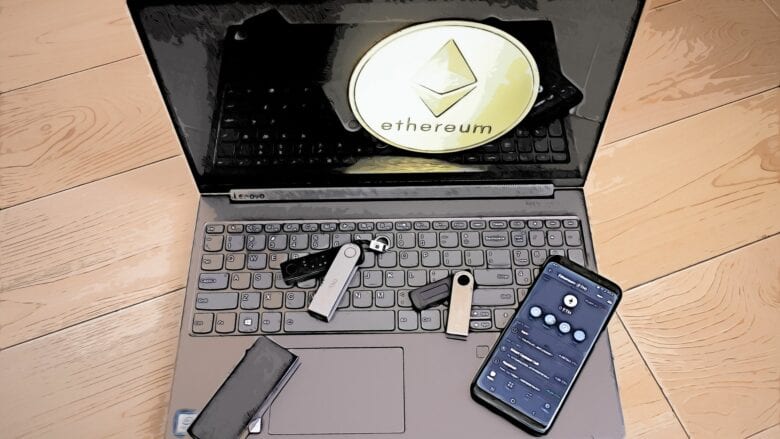 Ethereum is now more popular than ever as millions of inventors join the crypto market and enterprises around the world start to actively integrate blockchain technology into their ecosystems, and this seems to only be the beginning.
One of the first and major decisions that new crypto users are faced with is what crypto wallet to use.
This decision will have more ramifications than they usually realize at first glance due not only to the increasing number of token standards resulting from new blockchain networks but also to the pros and cons of different wallet types.
Choosing the best Ethereum wallet for you is essential to improve your experience in the crypto world, allowing you to acquire, hold, and transfer your new cryptocurrency without incurring high fees or compromise security.
What Is an Ethereum / Cryptocurrency Wallet?
The simple answer is that an ethereum wallet is an application or device that allows you to "store" your ETH tokens, as well as enables you to transfer them to other people.
You probably noticed we have been talking about storing using quotes, and this is because a crypto wallet doesn't store your wallet as cryptocurrencies do not have a specific location, but it only provides you with the means to interact with a blockchain network and prove ownership over assets in it by using public and private keys.
The public keys allow third parties to interact with your wallet by receiving and sending cryptocurrency, while the private key gives you control over the wallet and the crypto assets it contains.
These private keys not only allow you to access the wallet but also allows it to provide networks with a digital signature that demonstrates the authenticity of any operation originating from the wallet, which is one of the fundamental aspects of cryptocurrency.
Losing these private keys is the equivalent of losing all of your money, as in the case of cryptocurrency there is no central authority that can recover them for you if the failsafe that exist fails.
Desktop Wallets for Ethereum
This type of cryptocurrency wallet requires you to download software and install it on your computer. As this software is executed locally on your computer, its security greatly depends on the security of your own system.
These wallets will usually allow you to encrypt the file containing your private key information by using a personal password to add an extra layer of security but as the file itself can be lost, it is important to have a backup and store the seed phrase provided to you during the setup process.
A desktop wallet can operate both as a cold or hot wallet depending on the status of its internet connectivity, which gives them an added level of flexibility when compared to hardware wallets.
The advantages of desktop wallets are their convenience if you use your computer to trade, their non-custodial nature, and their high degree of security (as long as your system is not compromised).
However, these wallets will not be as convenient if you trade or operate with crypto while moving and they require good security practices to protect your assets.
1.

Exodus Crypto Wallet

There are many reasons why Exodus is one of the most popular crypto wallets among blockchain and crypto enthusiasts, ranging from its multicurrency support to its sleek design.

Ever since its founding in 2015 by JP Richardson and Daniel Castagnoli, Exodus has released more than 200 software updates (or 1 release every 2 weeks), which has allowed it to maintain its top notch security, offer support for over 100 crypto assets, and added multiple features designed to improve user experience.

Exodus not only allows you to store your crypto but also provides you with insight into your crypto portfolio with the information that you need to improve your investments.

These insights come in the form of key information such as your asset that is generating the highest returns, the one that is doing the worst, graphs for different assets, historical and live data, and much more.

The wallet also has a built-in exchange that allows you to easily trade your crypto assets without the need for a third-party application, adding another level of convenience and ease of use.

With the Exodus desktop app, you have the option to backup your wallet password as well as its seed phrase, something essential to protect your assets, as well as an app explorer that makes it easier to navigate the crypto ecosystem for applications that provide you with different functionality.

The exodus wallet also has a mobile version which will allow you to have the best of both types of wallets. If you have a Trezor hardware wallet, you will also be able to manage and exchange your crypto using exodus.

It doesn't matter if you are a Mac, Windows, or Linux user, as all of these Operating Systems are supported by Exodus.

While you are probably interested in Ethereum if you are reading this article, Exodus will also allow you to store more than 130 crypto assets, which is a bonus despite part of it being kept as a secret by the development team.
2.

Atomic Wallet

While Atomic Wallet is free to use, you will be required to pay for the fees charged by any network you are using to transfer your crypto. At this time, it is possible to set custom fees for BTC and LTC, as well as the subject of this article, ETH.

The platform also has its cryptocurrency: Atomic Wallet Coin. This token works as an internal currency for Atomic wallet and can be received by users as a reward in the form of cashback depending on the membership you pay for using AWC, as well as a referral bonus in the form of airdrops.

There is a mobile version of the app, but the desktop version offers far more functionality as well as the option to add more than 1 wallet, adding an extra layer of functionality and flexibility.

Something to keep in mind is that unlike Exodus, Atomic Wallet does not offer hardware wallet integration at this time nor 2-step verification. However, Atomic wallet allows you to use FaceID and fingerprint to access your wallet at any time.
3.

MetaMask

Ok, we might be cheating a bit with this one as MetaMask is a web wallet instead of a desktop wallet, but we will be including it in this section for the sake of simplicity. The difference between MetaMask and the previous 2 desktop wallets is that you need to use MetaMask as an extension for your web browser, which limits its use to your computer.

MetaMask is one of the most popular web wallets among Ethereum users since its release in 2016, reaching over 400 thousand users by 2020. Created by Aaron Davis, the wallet supports Google Chrome, Mozilla Firefox, Brave, and Microsoft Edge.

This wallet is completely specialized in supporting Ether (ETH) and all Ethereum-based tokens (ERC20, ERC 721, etc), which means you won't have any trouble adding any token as long as it runs on the Ethereum network.

A great feature of MetaMask is its support for both Trezor and Ledger hardware wallets, which makes it a great alternative to use in conjunction with any of their wallets to further improve your access to your crypto.

The Swaps feature allows users to swap any Ethereum token without having to leave the extension or mobile app (which it also has), making your trading experience faster and simpler. This feature aggregates different markets to ensure a large selection of tokens with competitive prices, but you will be charged a 0.875% fee for using the service.

As this is a non-custodial software wallet, all of your information is stored locally in the device where the wallet is installed, so you will need to take care of your seed phrase, password, and private keys to ensure you don't lose access to your crypto.

Not only can you trade your crypto while using MetaMask but you also can purchase it directly from the extension or mobile app by using either Coinbase or ShapeShift, two of the most popular crypto exchanges.

The wallet also has a Decentralized App (dApp) explorer you can use to connect to blockchain-based applications, adding a whole new lot of ways to use your crypto.

MetaMask pays special attention to allow developers to quickly integrate the wallet's functionality to their platforms, which allows MetaMask to be compatible with popular platforms like UniSwap, Aave, Rarible, and much more.

Overall, MetaMask is a safe choice as your crypto wallet due to its friendly User Interface (UI), features, and convenience. However, if you are a seasoned crypto enthusiast or looking to become more active in the market, it might not be the best option for you.
Mobile Wallets for Ethereum
Mobile wallets are similar to desktop wallets except for being designed to be installed on mobile devices such as smartphones, which provides them with a great level of convenience when it comes to using your crypto from any location and at any given time.
Mobile wallets can have a desktop version and vice versa, so they are not mutually exclusive. However, mobile wallets will in most cases offer more features designed to facilitate crypto transactions by using QR code scanning and address sharing functionality.
One of the disadvantages of mobile wallets is that users are more prone to lose their phones than their desktops, be it due to it being lost, stolen, or damaged. Mobile wallets also require you to have good security practices just as desktop wallets, as a compromised device could result in bad actors taking ownership of your crypto assets.
1.

Coinbase Wallet

Previously known as Toshi, Coinbase wallet was developed back in 2017 by Coinbase, one of the biggest and most popular crypto exchanges. Toshi was the first mobile wallet to have a built-in dApp Browser and offer crypto-collectibles, a testament to its ambition.

While it is developed by Coinbase, its uses are not limited to those buying, selling, or trading their cryptocurrency in the exchange as it is a separate, standalone, non-custodial app. If you are a Coinbase user, you will experience a level of integration between the 2 platforms that should facilitate your crypto operations.

A great feature of the Coinbase wallet is the backup option for your recovery phrase using an encrypted file and Google Drive or iCloud, which will facilitate the recovery process if you ever need to use it.

However, should your Google or Apple account be compromised at any point, this could also result in issues when it comes to your crypto, so make sure to protect your credentials.

The wallet is free to use but you will be required to pay for any transaction fee that Ethereum or other networks charge at the time of the transaction. In the case of Ethereum, this means you will need to have ETH in your wallet before being able to transfer your crypto to another address.

The tokens supported by Coinbase Wallet are all ERC-20 tokens, Ethereum, Bitcoin, Bitcoin Cash, Litecoin, Ethereum Classic, XRP, Stellar Lumens, and Dogecoin, which will allow you to expand your portfolio if you wish to do so in the future.

The app also includes a dApp explorer which you can use to look for decentralized exchanges (DEX), blockchain games, DeFi platforms, etc.

However, this explorer is not limited to dApps as it also allows you to look for jobs paid in cryptocurrency directly to your wallet, an excellent way to make some crypto by completing tasks.

Coinbase Wallet does not offer support for hardware wallets at this time, so that is something to keep in mind if you own one and are looking for added flexibility.
2.

MyEtherWallet

Also known as MEW (a name that they want you to use), MyEtherWallet is a free, open-source, non-custodial cryptocurrency wallet designed specifically for the Ethereum network. Founded by Kosala Hemachandra and Taylor Monahan back in 2015, only one month after the launch of the Ethereum network, reaching over 1.2 million monthly users in a matter of years.

Mew not only is available for both iOS and Android but also offers a web interface that will allow you to explore more faces of Ethereum such as DeFi platforms and Dapps by simply scanning a QR code to connect your wallet.

Some of the features include swapping and trading, smart contract deployment, borrowing crypto, staking, and much more.

If you have a Ledger Nano S or Trezor hardware wallet, you will be able to integrate them with MEW as they are supported by it. You can also use third-party wallets like MetaMask to further increase the functionality of your wallet.

Like the other wallets in our list, MEW is free to use but requires you to pay for any transaction fees you incur when transacting in the Ethereum network, which will depend on the current gas prices.

MEW also allows you to buy Ether directly from the app by using your credit/debit card or Apple pay, which facilitates the use of your crypto by not requiring you to pay gas fees to load your wallet.

As an Ethereum wallet, MEW supports all ERC-20 tokens without the need of adding them manually, but will not allow you to use any other cryptocurrency that is not part of Ethereum.

Some users choose to have many accounts with different purposes, which is something that MEW allows and facilitates. It is possible to use as many accounts as you want, with the UI allowing you to easily switch and manage them without having to jump through hoops.
3.

Trust Wallet

Created by Binance, one of the biggest exchanges and a direct competitor to Coinbase, Trust Wallet is another major force in the crypto wallet industry.

Trust wallet allows you to buy and trade cryptocurrency without having to leave the app, with support for some of the most popular cryptocurrencies such as bitcoin (BTC), Litecoin (LTC), Polkkardot (DOT), Ripple (XRP), Ether (ETH), and many more, as well as all ERC-20, BEP2 and ERC721 Tokens.

Trust also offers a built-in DApp browser that you can use to acquire new tools optimized for mobile devices, allowing you to take your crypto experience to another level. With this in mind, it is also noteworthy that Trust Wallet has a special section for storing and interacting with your crypto-collectibles, as having them as a non-interactive token is not much fun.

There is also a built-in decentralized exchange (DEX) that you can use to quickly and easily swap/trade your cryptocurrencies, as well as the option to set price alerts to know any significant price changes experienced by the coins in your portfolio.

Despite being owned and developed by Binance, Trust wallet is completely decentralized and non-custodial, which means it operates as a separate platform. It is free to use but you will need to pay fees for trades/swaps in the DEX, as well as transaction fees charged by the network you are operating with when transferring your crypto.

Trust wallet doesn't require you to complete a KYC, which is a bonus if you are concerned about your privacy, and stores your private keys locally in your device. The app's clean design and straightforward features make it a great choice for those who are just starting in crypto, as well as crypto veterans looking for simplicity and flexibility.
Hardware Wallets for Ethereum
The ultimate form of cold wallets, hardware wallets are widely considered the most secure way to store your private keys. These physical electronic devices make use of RNG technology to generate your public and private keys that are then stored in them and disconnected from the internet.
In exchange for convenience and ease of use, you can get top security when using this type of wallet. However, it is important to make sure that your device is manufactured by a credible manufacturer, as bad firmware or poor design implementations could result in losses.
Hardware wallets are the best option for those looking to hold their crypto assets in the long term or have a large quantity as they are not only more expensive but also less convenient and harder to use. Despite these drawbacks, hardware wallets are a solid option to consider if your main concern is the security of your crypto.
1.

Ledger Nano X

Launched back in May of 2019, the Ledger Nano X is one of the most popular and stylish hardware wallets available in the market.

This wallet offers Bluetooth connectivity to facilitate communication with mobile apps, including the Ledger Live Mobile app, to quickly access your cryptocurrency from anywhere at any time with its 34g weight.

The Ledger Nano X supports over 1500 crypto assets, including ETH and all of its token standards, making it a great choice for anyone looking for top security and compatibility. You can manage all of your assets using the built-in screen, a plus if you like to check on the status of your crypto at any moment without the need for a phone or computer.

The Ledger Live app offers features to buy and sell your crypto, swapping, staking, and a clear interface that makes it intuitive and easy to use.

The device also has some of the highest security standards you will find, ranging from a proprietary operating system, ANSSI security certification, and a Secure Element chip to mitigate and prevent all sorts of attacks.
2.

Trezor T

The other big company when it comes to hardware wallets, Trezor launched this wallet back in February of 2018. The Trezor T has been a popular and safe option ever since.

With a weight of only 22 grams and its built-in touch screen, the Trezor T is convenient and easy to use, offering top security by offering Universal 2-factor (U2F), password manager, Secure Shell (SSH), and GNU Privacy Guard (GPG) features you can take advantage of beyond crypto.

The wallet also offers support for a total of 1652 cryptocurrencies (including ETC 20 and other Ethereum standards), which means you won't have any problems storing any crypto you decide to invest in.

Unlike the Ledger Nano X, the Trezor Model T does not has Bluetooth capabilities or a mobile app, which further improves the security by keeping it disconnected from other devices at the cost of extra functionality.
3.

Ledger Nano S

The Ledger Nano S is a previous model of Ledger Wallets before the Ledger Nano X, this wallet is still a favorite among season crypto holders due to its high level of security.

Unlike its predecessor, it does not offer Bluetooth functionality and is more similar to the Trezor T when it comes to features. It supports the same number and type of tokens that the Ledger Nano X does, which means that this should not be a concern when choosing between both.

As it does not offer Bluetooth functionality and doesn't have a battery, the wallet needs to be connected to function, which means you will be sacrificing functionally in favor of extra security.

Its storage is also significantly lower than the Nano X, which means you will be able to install about 5 apps compared to the up to 100 supported by the Nano X. While this might look like a negative, it is actually not a problem for investors planning to have a small portfolio with high amounts of cryptocurrency,

The Ledger Nano S is a great option for those looking for a hardware wallet with all the security of the Nano X but with fewer features at a cheaper price.
Conclusion
It is estimated that around 20% of all existing Bitcoin is stranded as a result of their owners losing their private keys, according to Chainalysis.
Not being aware of the pros and cons of every wallet type, not doing the appropriate research, or just not following good security practices is the main reason behind these losses. Don't let this happen to your crypto!
There is a right fight for the need of every crypto holder, and while these choices are what we consider the best, you might need one that offers different features. Whatever crypto wallet you choose, do your research to make sure it will protect your crypto.
One thing is certain, the wallets we have listed for you are some of the safest options you will find due to their developer's approach, as well as provide some of the best features most crypto