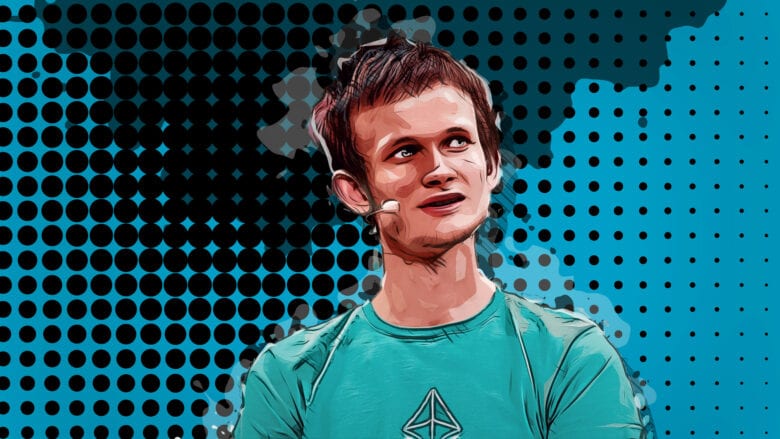 Vitalik Buterin, whose full name is Vitaly Dmitriyevich "Vitalik" Buterin, is known for being a co-founder of Ethereum, one of the largest cryptocurrencies measured by market capitalization.
If you are interested in learning who is Vitalik Buterin, then look no further, as we will take you through the early days of Vitalik's journey in crypto to the present.
Buterin used to be a core member of Bitcoin Magazine, which publishes many crypto articles and has a remarkable reputation in the cryptocurrency industry. It is no exaggeration that Buterin has become one of the most influential people in cryptocurrency.
Putting that aside, in Buterin, we see the kind of genius that can change the world.
Having shown early talent in mathematics and programming, Buterin started a professional career while in school and soon stopped formal education.
He managed to acquire considerable achievements simultaneously – and these traits are usually seen in great people. It's as if Buterin was destined to create a great platform and move the world of crypto forward.
Biography
On January 31st, 1994, Vitalik Buterin was born in Kolomna, a city in Russia.
His father is Dmitry Buterin, an entrepreneur, investor, and computer scientist, and his mother is Natalia Ameline, a highly qualified and experienced financial executive.
Buterin inherited many good traits from his parents. Buterin's dad and mom also gave him support along his career path later on in his life.
At the age of 6, Buterin moved to Canada with his family, where he enrolled in elementary school. While in grade three, Buterin's talents were discovered, then he was transferred to a gifted class and started to show a fondness for math, programming, and economics.
"Like father, like son" is a perfect saying to describe Buterin's early background in math and computer programming.
Buterin spent 4 years in his young middle years studying at a private high school called Abelard School in Toronto. Though this was a tranquil time with not so many noticeable events, Buterin later shared that they were among the most fascinating and productive years in his life.
During that period, Buterin learned crucial principles that shaped his mindset and future adult characteristics.
A turning point took place at his 17. When Buterin started to throw himself into World of Warcraft, his father, Dmitry Buterin, introduced him to Bitcoin.
Although the young Buterin showed a trivial interest at first, Mr. Buterin was patient and passionate about this new tech. Gradually, Vitalik became attached to Bitcoin.
His interest continued to grow after entering the University of Waterloo, where he could spare more time digging into crypto activities.
Buterin began with small writing tasks about Bitcoin, then joined in publishing Bitcoin Magazine, and gained an editor position in another blockchain review journal named Ledger.
His most significant milestone in this period was the release of the Ethereum white paper in 2013.
There is no need to mention how successful Ethereum has become today, which has made Buterin a big name in the global economy, even after he quit school in 2014.
At the age of 27, Buterin is among the youngest millionaires, with the total estimated wealth at about $100 million, including his crypto holdings, cash, other assets, and a yearly salary as an Ethereum Foundation executive that is likely worth $150,000-250,000 per year.
Besides his business accomplishments, Buterin has gained scholarly recognition and a number of honorary awards.
An International Olympiad in Informatics bronze medal in 2012
A Thiel Fellowship award in 2014, with a prize worth $100,000
A World Technology Award in IT Software in 2014
Named in the Fortune 40 Under 40 in 2016 and the Forbes List of 30 Under 30 in 2018
An honorary doctorate of the Faculty of Business and Economics (University of Basel) in 2018
Career and Evolution
Bitcoin Writing and Publications
As soon as getting in touch with Bitcoin, in 2011, Buterin got his first crypto-related writing for writing posts on Bitcoin Weekly, a small publication.
At that time, Buterin received 5 Bitcoin (equal to $3.5 back then) for every complete piece. The job didn't last long because the website could not make enough money to stay afloat.
But it gave Buterin fresh experiences for another opportunity. Mihai Alisie contacted him and offered a position as the co-founder and principal writer of the Bitcoin Magazine, which was new at that time.
In 2012, Bitcoin Magazine's first print publications started being distributed in Barnes and Noble. It was a pioneer in cryptocurrency journalism.
After gaining popularity, in 2015, Bitcoin Magazine was acquired by BTC Media. Today, it is published online only, though it remains famous as one of the most well-read crypto publications.
When he was writing for Bitcoin Magazine (mainly from 2012-2014), Buterin had over 260 articles published. Enthusiasts can still look up for those posts on the online archive of the Magazine.
There was also a period when Buterin worked in an editorial capacity for Ledger to produce peer-reviewed articles on blockchain and cryptocurrency. Those publications were approved by the University Library System, with the University of Pittsburgh.
Ethereum Co-Founder
After winning the 2012 International Olympiad Informatics bronze prize, in 2013, Buterin spent his time traveling around the world and visiting people with similar interests in coding and development.
After that, he returned to Toronto and announced the Ethereum Whitepaper.
Buterin proposed the idea of Ethereum as an alternative solution for Bitcoin with more scripting language integration. Before that, he had raised the argument that the first crypto, Bitcoin, lacked a scripting language for further expansion and scalability but failed to convince others.
This time, his proposal of Ethereum brought the image of a decentralized mining network combined with scalable software that enabled the invention of new cryptos operated on a single ledger.
Buterin selected the name Ethereum after going through several science-fiction themes on Wikipedia.
The word "ether" means a "hypothetically invisible medium" that can pierce through space and make light travel between different universes. Using this name, Buterin created the hope of making an underlying medium for crypto applications to be developed and shared globally.
Buterin met other later-to-be Ethereum co-founders and investors, namely Gavin Wood, Anthonio Di Iorio, Joseph Lubin, in Toronto after Ethereum was mentioned in the 2014 North American Bitcoin Conference held in Miami.
They had a couple of meetings before starting to develop the software, initially by a crowdsale, in July 2015. The first test named "Frontier" was revealed with no blocks released until September when 200,000 ETH were unleashed through the "Ice Age" launch.
Ethereum has undergone many upgrades (both planned and unplanned) as it rose to be the second more popular token globally.
As the second-largest crypto network after Bitcoin, Ethereum developers are working on ETH 2.0 to open up the scalability and boost the transaction speed to thousands per second. The Proof-of-Work (PoW) system that was common in the early days of cryptocurrencies has shown itself to be a hindrance to growth.
ETH 2.0 will incorporate several upgrades, with the new Proof-of-Stake (PoS) system standing out as a significant step forward.
Noticeably, Ethereum 2.0 was also proposed by Buterin in 2019. He spent $1.4 million in ETH on the initial contract to facilitate the early development of the ETH 2.0 upgrade.
Currently, Buterin holds a position on the Executive Board of the Ethereum Foundation as the co-founder of Ethereum. According to his father, Mr. Dmitry Buterin, he prefers to hide from the spotlight and focus more on research.
Buterin Other Projects
After the success of Ethereum that brought fame and money to Buterin, he has actively taken part in a number of diversified projects, mainly in financial technology and the digital assets sector.
As a crypto holder, Buterin has a major position in ETH, as well as Bitcoin, Bitcoin Cash, Doge, and Zcash, with the total estimated value at about $80 million.
Buterin also owns shares in Clearmatics and Starkware, two fintech companies specializing in developing blockchain-related applications.
In particular, Clearmatics focuses on DeFi protocol design, while Starkware is utilizes Zero-Knowledge proof technology to build privacy-centric software.
Buterin is also dedicated to promoting Ethereum applications and bringing people together. The Enterprise Ethereum Alliance is one such project, and it started in 2017 with 30 members that became a group of ETH development supporters.
Nowadays, the Alliance has expanded to over 150 members, including startups, institutes and giant corporations worldwide, such as Samsung SDS, Intel, Mastercard, and Microsoft. Clearly, this helps to create a solid foundation for the Ethereum ecosystem to grow.
Buterin plays a significant role in promoting Ethereum in new markets. China is an example of this work, where Buterin is a core adviser for the Internet Commission of the Securities Association.
He is also a General Partner of the Chinese firm Fenbushi Venture Capital. The company is known as the first and largest one to provide exclusive investments in blockchain-based startups and companies in China.
In his home country of Russia, Buterin also helps to promote decentralized projects.
He used a meeting with Russian President Putin to explain his ideas on how blockchain and the digital economy can benefit the Russian nation. It was reported that President Putin was interested in the new technology.
Following this event, in 2017, Buterin managed to create a deal with Yota Services' CEO, a Russian mobile communication and device firm.
It led to the start of Ethereum Russia, which supports Vneshtorgbank, the Russian state-owned development bank, with blockchain education, training, infrastructure evaluation, and event organization.
Vneshtorgbank will finance a project of building a blockchain research center at MSIS to help the government develop policy implementation.
On the other hand, as a programmer and developer, Buterin has joined and contributed to various open-source projects. Some projects spurred along by the Ethereum co-founder are the Bitcoin Python libraries, DarkWallet, and the Egora marketplace.
Personal Worldview and Perspectives
Despite being a genius (we think) and a big influencer in the crypto industry, Buterin has remained humble.
Instead of cashing in on wealth and fame, he has chosen to remain focused on the technologies he enjoys working with.
In a rare interview, Buterin admitted he would rather not become a founder if he could choose again, as it caused trouble in his life. With all the attention, he was less able to concentrate on professional operations and research.
Instead, he would like to promote other good people to take on leadership roles in the Ethereum space.
A Loyal Decentralization Supporter
From the very beginning, Buterin held firm beliefs about the future of decentralization.
He has repeatedly stated that scalability is one of the biggest bottlenecks that blockchain developers are coping with.
That's why Buterin has been working hard on the Ethereum 2.0 upgrade, which will likely create large scalability, security, and usability improvements.
He believes that over time, decentralization will become the de-facto way that many tasks are handled.
Political Views
Through Buterin's media posts and online presence, it is easy to see some libertarian influence on his thinking. He also supports a free market and capitalism. But unlike most people, he doesn't pay too much attention to profits.
Instead, Buterin praises free markets as a great environment for entrepreneurs to seek free and creative opportunities. He never hesitates to show his viewpoints around this topic on his Twitter, and thinks that constant innovation brings benefits to global society.
Philanthropy
Buterin has been giving away a lot of his wealth to support social projects, charities, and projects that may not be able to find funding independently.
In 2017, Buterin made a donation of $763,000 in ETH to the Machine Intelligence Research Institute. The Institute is conducting experiments on AI technologies that can be used to enhance human life.
Next, in 2018, he spent another $2.4 million of his ETH to support the SENSE Research Foundation, to help its study of developing treatments for aging issues. In the same year, he donated $1 million to Ugandan refugees.
All his respectable acts and contribution for innovation were rewarded with the honorary doctoral degree from the University of Basel in 2018.
For Buterin, the road ahead is still likely a long one. With his talents, personality as well as an optimistic attitude, and persistent enthusiasm, he is expected to continue being a key leader in the blockchain and cryptocurrency industry.
Sources