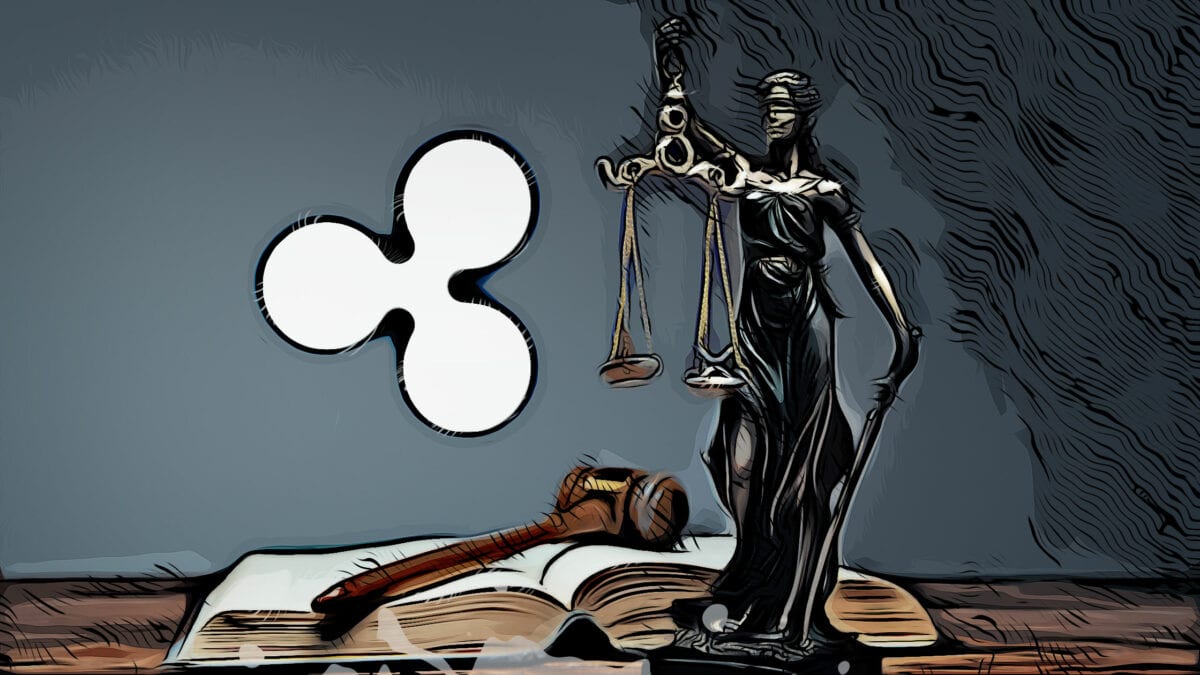 2020 was an unpredictable and unstable period in the crypto world, with several major events that are likely signs of things to come. The current lawsuit that was filed by the SEC against Ripple is one of them.
Right before it came to the end of the year in 2020, the US Securities and Exchange Commission (SEC) filed a case against the Ripple in the New York District of US federal court.
The case was submitted by the SEC on 22nd December 2020, with specific allegations against XRP's flag company, Ripple Labs, its subsidiaries, and both the former CEO Christian Larsen as well as the present CEO Bradly Garlinghouse.
In the complaint, the SEC pointed out that XRP couldn't be considered a cryptocurrency, but instead a security.
As a result of this, Ripple Labs had either failed to register with the SEC or attempted to make it exempt from required security registration. This went against the practices regulated under the Howey Investment contract test in the Securities Act of 1993.
Why Did SEC Sue Ripple?
Both Ripple Labs' execs allegedly engaged in "aiding and abetting" XRP sales to the public as both sold a large amount of XRP to New York residents. In particular, a total of 1.7 billion XRP plus 320 million were successfully distributed to purchasers under the execution term of Larsen and Garlinghouse.
Based on the SEC's views, the Commission had gathered sufficient evidence to prove that XRP had a responsibility to comply with federal securities laws, in which "aiding and abetting" acts carried out by a party to boost the sales of securities were labeled as a severe violation.
As such, SEC claimed Larsen and Garlinghouse participated in substantial unlawful sales of XRP that violated the aforementioned laws.
The SEC dug further into Ripple's record to consolidate its premise for prosecution.
Is XRP A Security or A Currency?
According to the SEC, unlike decentralized platforms such as Bitcoin or Ethereum, where tokens are distributed throughout the network with no single managing entity which can manipulate sales for gain and profit, XRP is a security, much like the equity (stock) of a company.
Ripple Labs owns a majority of XRP and has control of the system, therefore, XRP is not qualified to be classified in the same category as a digital currency as BTC and ETH, but must be handled as a security.
The SEC also mentioned a previous case during the term 2013 and 2015, in which Ripple faced an allegation by the US Financial Crimes Enforcement Network (FinCEN). However, FinCEN in this case called XRP a currency in their document.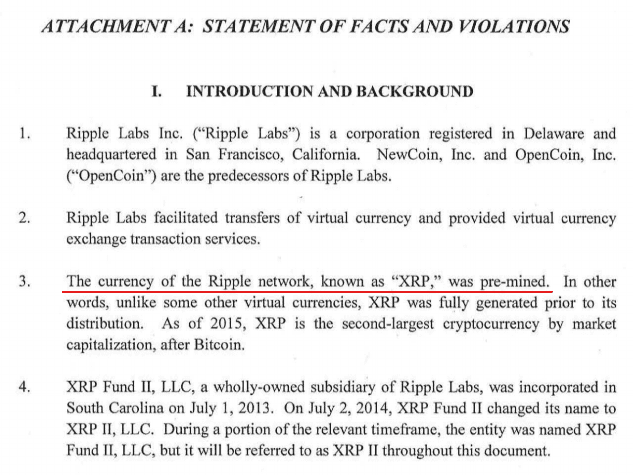 It is worth noting that other countries outside of the United States have already declared XRP a currency. One such country is Japan as stated by Yos***aka Kitao, the CEO of the SBI Group.
Japan's FSA has already made it clear that XRP is not a security. I'm optimistic that Ripple will prevail in the final ruling in the US. SBI Holdings remains a steadfast partner to Ripple, and looks forward to expanding together in Asia.

Mr. Kitao
The Outcome of Ripple's and FinCEN Case
In this case, FinCEN condemned XRP for breaching the Bank Secrecy Act and failing to perform in compliance with the Anti-Money Laundering and KYC protocols.
For not registering with the FinCEN and failing to comply with a number of BSA requirements, eventually, Ripple must give in with the sentence of paying a $700,000 fine and take proper actions to be compliant with BSA, in order for FinCEN to close the case.
This time, the SEC is showing solid determination with no signs for possible compromises. It ordered a strict and permanent prohibition on any sales of unregistered XRP, as well as other non-exempt securities.
In addition, the company is to be banned from any activities involving digital asset offerings and a civil monetary penalty will be sought. To be sure, the SEC is playing hardball, and isn't leaving much wiggle room for Ripple Labs.
Ripple Responds to SEC Lawsuit
The SEC's suit was predictable since the Commission had been preparing it for years. But when it took place, it still delivered big hits to XRP and its related stakeholders. The price of XRP tanked and seems to be bucking the overall move up in major tokens.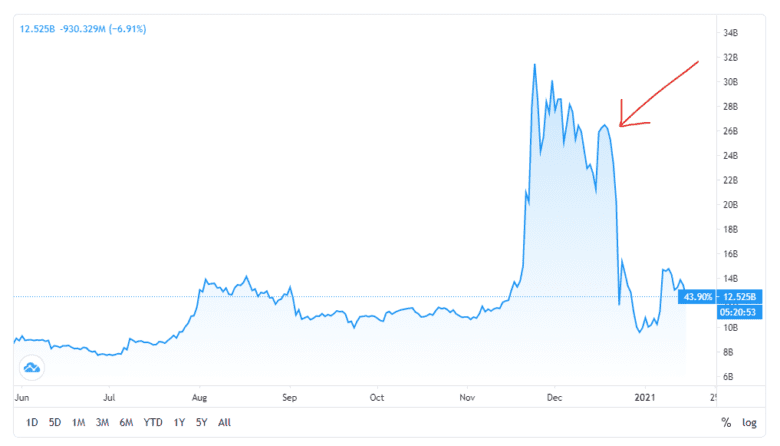 Ripple seems to have a plan in place, and it may be looking for a new country as a home-base.
Garlinghouse's tweet one day before condemned the SEC, and claimed these sorts of law enforcement actions would constrain the free innovation of digital assets in the USA.
Ripple's legal counsel then released a declaration claiming that XRP had been acknowledged as a lawful crypto since 2015, when the case with FinCEN was settled.
In a media release on its official page, Ripple Labs strongly criticized this one-sided indiscriminate attack from the SEC on the whole crypto industry and stated that they would continue all operation activities as normal, regardless within or outside of the US.
While Ripple was willing to cooperate with the SEC to seek a reasonable settlement, it would still take all necessary steps to defend themselves before the charges.
Needless to say, Ripple would not easily accept a defeat and was gearing up for a nagging law fight. It's difficult to forecast the outcome just yet, but it would definitely be a thorny obstacle for XRP and its supporters.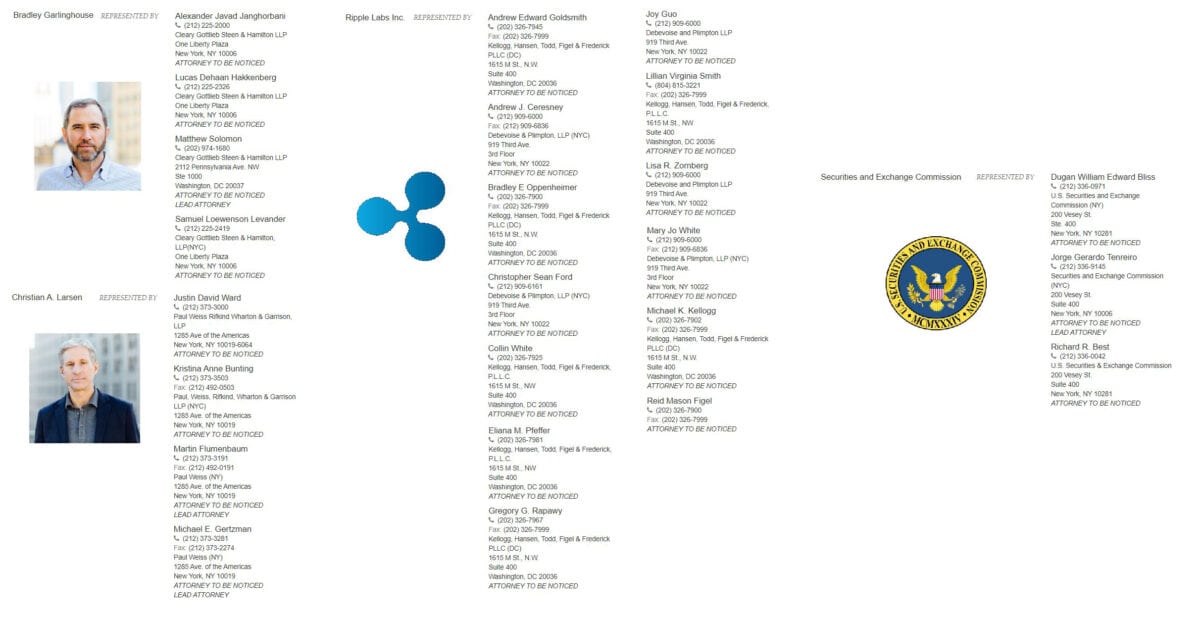 Securities and Exchange Commission v. Ripple Labs Inc. Brad Garlinghouse and Christian A. Larsen – Credit: @LeoHadjiloizou
The Global Fallout
Obviously, the lawsuit filed by the SEC against Ripple has created a global chain reaction.
Similar to any other conflict, there are some strong opinions on both sides. One group is staunchly defending XRP as it is directly affected by the SEC's complaint, while some others are reconsidering their support for XRP in a bid to distance themselves from the company.
Crypto exchanges and payment platforms are the first to have to make a decision.
Within two weeks of the SEC's complaint, an informal report has been compiled and shows that 26 companies have adjusted their policies, to minimize their exposure to XRP. Many have suspended or disabed XRP trading while others have delisted the token outright.
Some exchanges have stopped XRP support for US clients only, and others have cut the token altogether. As a security, XRP now falls into a new class, and exchanges will need to abide by far stricter rules for US clients.
Will XRP Be Banned?
Exchanges have been quick to react. The actions taken by exchanges to delist or keep XRP are made by the exchanges separately based on their own circumstances until a definitive ruling is made by the courts.
Global exchanges that opted to delist XRP for US clients include Bitstamp, eToro, Stex, Abra alongside the market maker B2C2.
Stronger moves to fully suspend XRP trading were enacted by Coinbase, Beaxy, OSL, Ziglu, iTrustCapital, OKCoin – as well as two market makers – Jump Trading and Galaxy Digital.
XRP delisting has been carried out by BinanceUS, Crypto.com, Bittrex, and CrossTower. Swipe is taking a similar action, and Eobot decided to delist XRP entirely from their global platform.
Corresponding actions have been undertaken by financial institutions as well.
Wirex, a payment firm has blocked XRP transactions inside the US, while other payment companies like Simplex, have put a ban on XRP globally.
Several asset manager companies and brokers are proceeding with international restrictions, including 21shares, Sarson Funds, Genesis Trading and Bitcoin Suisse.
A Watershed Moment is Here
Some crypto exchanges are facing trouble for supporting XRP's alleged violations, although US policy has been vague up to this point.
Coinbase is a typical example, as a user has filed a case accusing the platform of knowingly making the unregistered security XRP available for trading, which wasn't compliant with California's laws. Since Coinbase isn't registered to sell securities, it has been accused of unlawful and fraudulent conduct.
The suit has been accepted by the California's Northern District's Court. More cases are expected to be raised in 2021, as many traders may feel they have been cheated.
Long Term Challenges Created by the US Government
Major US and international banks are limiting their involvement with Ripple. Many banks that once claimed to be partners of Ripple and enthusiastically endorsed the token in the past are denouncing the company and token.
For example, ATP Financial in Edmonton, BBVA, Banco Santander in Spain, PNC Bank, and Bank of America have been working with Ripple's cross-border payment software xCurrent. Now, all are silent or have given vague comments on the SEC's case against Ripple.
Simultaneously, many of these entities declared they never XRP's system, which seems like a stretch given their level of involvement with Ripple Labs.
XRP Has a Strong Supporting Community
On the other hand, XRP supporters are gathering to back Ripple against the SEC's complaint. In specific, a petition was agreed by XRP holders and submitted to the US District Court of Rhode Island on the 1st of January 2021.
The petition criticized the SEC's lawsuit against Ripple and questioned the SEC's capabilities to fulfill its fiduciary duties. It questioned why it took the SEC seven years after the initial distribution of XRP to bring up the case and stated this suit was a harmful act to all crypto investors.
The petition was an attempt by XRP supporters to halt allegations by the Commission on the token. The petition was organized, in part, to draw the White House's attention.
More than 24,000 signatures had been added to the petition, however, according to state laws, it needs 100,000 signatures in total in order for the White House to make an official response.
Uphold is among very few crypto exchanges that swim upstreaming and decide to maintain XRP on their list, as long as an official ruling has not yet been published.
Furthermore, the company criticized the complaint filed by the SEC. In its opinion, this action would severely harm the interest of investors, which went against the SEC's responsibility to protect consumers.
Uphold also cautioned other platforms to consider their actions before taking rushed actions against Ripple.
The vision for XRP and Ripple Labs is mixed, although a move by Ripple out of the USA is all but certain at this point.
The London-based fintech firm Revolut has sent a notice to their clients, notifying them about the possibility of delisting XRP from trading on their app. They also provided customers with a warning that XRP tokens' value might become null in a worst-case scenario.
Other Cryptocurrency Companies Sued by The SEC
In the past, the Commission filed similar cases against Tezos, OES, Telegram, and Kik, however, Ripple has strong connections in Asia, especially in Japan.
While Tezos and OES chose to pay their settlements without bringing the case to the court, Telegram and Kik decided to confront the SEC. In the end, both the companies were defeated.
For selling unregistered tokens, Telegram was required to pay $18.5 million and return $1.2 billion to investors. Kik faced the same judgment and was hit with a $5 million civil penalty.
Despite recent changes in the SEC's leadership, as now-former SEC chairman Jay Clayton left the position in late 2020, and is being replaced by Elad Roisman, who has more friendly perspectives towards crypto and digital assets, the situation in the USA might not be great for Ripple in the near term.
According to Jake Chervinsky, the Compound general counsel, the lawsuit was already voted on and got approval by a majority of SEC Commissioners. Thus, with or without Jay Clayton's presence, it's most unlikely that the SEC will abandon the case.
How Long Will the Ripple Lawsuit Last?
The initial pretrial has been set for the 22nd of February when the SEC and Ripple will connect through a remote meeting. The pretrial will be held in the New York Southern District Court and presided over by Judge Analisa Torres.
Both parties are required to prepare a letter, explaining briefly the case and all related foundations for their claims and defenses, as well as proposed settlements, then submit it no later than the 15th of February.
Given the fact that the SEC has refused to create a comprehensive set of crypto regulations, unlike other nations, it is almost certain that companies like Ripple will look for other places to grow their business. It isn't going to be pretty for the US, as digital currency is becoming a popular way to trade, invest, and make payments.
A Real Issue for The USA
The message that the SEC is sending is crystal clear – don't innovate in the monetary space, or the US will come down on you like a ton of bricks.
Many, many other places in the world, like Singapore, Japan, Germany, and others, have created crypto regulations that allow companies like Ripple to innovate and grow, and it is likely that Ripple Labs will be relocating to another country in the very near future.
Regulators in the USA are refusing to create fair laws, and coming after brilliant people for making innovative products. While this may be a speedbump for Ripple Labs, the US is sealing its fate as a digital backwater that uses oppressive legal tactics to punish forward-thinking companies.
Sources