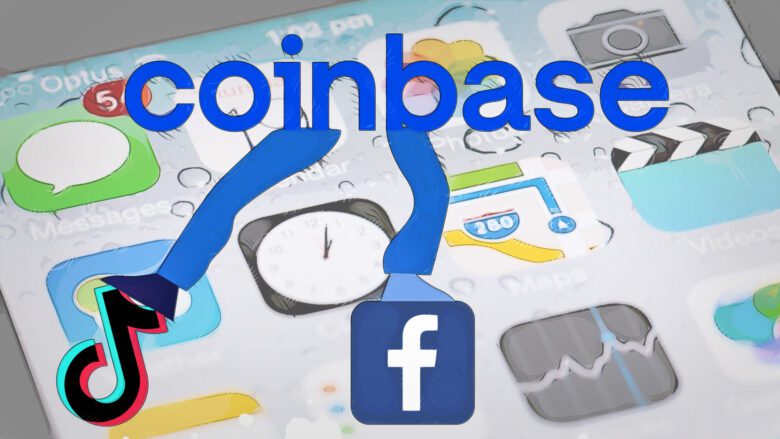 Bullish or The Peaks Are Here?
It smells like a new wave of retailers is joining in the crypto bull run.
Depending on your view, Coinbase now sits at the top of the iOS most downloaded app in the U.S. At the mantle, Brian Armstrong's app is more popular than titans.
Think TikTok, Alphabet's army of apps—YouTube and Google, and even Facebook.
It has to be a record and a pointer to just how crypto and Bitcoin are slowly being adopted—and accepted.
The good news is that Americans are not blind to events. Most of them know what Bitcoin is. A few more are even aware that some cryptocurrencies even outperformed the stringently regulated stocks and indices.
Overall, it makes for a good base.
Coinbase Ranks First
According to a ranking by Similarweb, Coinbase ranks first under the Finance category. At second position is Retro Bowl, a game. At seventh is Crypto.com, another crypto-related app. CashApp by Square and Coinbase Wallet make up the top-20.
Interestingly, there is a correlation between all these assets. They are ramps supporting the swapping of fiat for various cryptocurrencies.
As an exchange, Coinbase is the most popular and regulated in the U.S. Although submitting personal information as part of compliance is necessary, the ease of transferring funds from linked bank accounts to purchase or sell crypto makes it convenient for crypto users in the pro-blockchain and crypto country.
Besides, this spike in Coinbase app download also coincides with the approval by the U.S. SEC of the first Bitcoin Futures ETF. It is expected that Bitcoin prices would benefit from this green lighting. Analysts say more institutions would now likely seek crypto exposure as part of diversification.
Accordingly, crypto and Bitcoin would find more exposure. The result is more confidence, and thus, a virtuous cycle of Coinbase and crypto app download going forward.