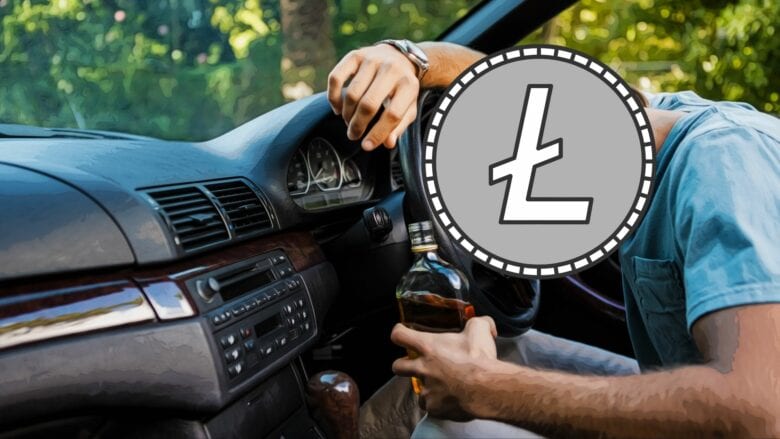 The Litecoin price is trading at around $140, firm on the last day versus BTC but posting dismal results versus ETH and USD in the last week of trading. During that period, the LTC price fell by roughly 18 and 10 percent, respectively.
As such, there are hints of a strengthening greenback, a move that may prop bears this week. For traders expecting an upside, there appear to be more sellers than buyers, as coin trackers data suggest.
On the last day of trading, LTC's average daily volumes dropped 13 percent to around $4.61 billion. The result was a drop in LTC prices, sealing the previous week's bears, indicating the medium-term trend trajectory.
Litecoin (LTC) Price Overview
The LTC price is bullish versus the USD in the long term, as price action in the daily and weekly charts suggest. Despite corrections of the last few days, the uptrend is firm.
However, its continuity also depends on two factors: Sentiment and participation. If trading volumes continue to shrink as prices fall, sentiment may change, and sellers could take charge.
Still, the LTC/USD chart's immediate resistance level is at $187—the 2021 highs. On the lower end, $112 is the support. Therefore, as long as prices oscillate within this $75 zone with low trading volumes, buyers would highly likely be in control, accumulating in lower timeframes expecting gains back to $187 and above.
Conversely, the LTC price may plunge if last week's bear pressure spills over, driving prices below spot levels and $110. In this case, holders may dump, preferring to HODL the greenback and USDT instead. Nonetheless, bulls are dominant. Considering Litecoin's positive correlation with BTC, the latter's rally could offer LTC support even if fundamentals are comparatively weaker.
Litecoin (LTC) Market Movers
Despite the correlation, traders are adamant that Litecoin's low market cap versus BTC is an opportunity.
In their view, every low is another loading opportunity with targets at 2X spot rates:
Outside of Grayscale Investment's accumulation of Bitcoin and ETH, Metlife Investment Management—which had $651 billion of assets under management, is considering LTC among other altcoins.
Already Grayscale owns roughly two percent of LTC in circulation:
Also, as they continue with MimbleWimble, Litecoin is integrating with the Incognito network to enable anonymous transactions. Through the pLTC tokens, users will send and receive anonymous transactions.
MimbleWimble will be fully rollout at a tentative time in 2021, according to its lead developer, David Burkett.
Litecoin Price Analysis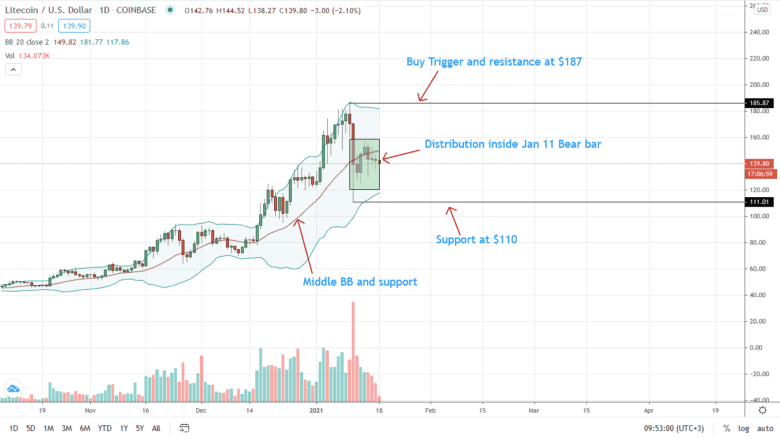 The LTC/USD is stable on the last day but trails other coins in the past week of trading.
From a top-down approach, sellers appear to be in control. For instance, in the weekly chart, there is a double bar bear reversal pattern. Last week's bar corrects the over-valuation of the week ending Jan 11—closed above the upper BB. A standout, last week's bar has a long lower wick pointing to buy pressure in lower timeframes.
Technically, a close above $190 is bullish and will be a significant breakout above June 2019 highs. However, if sellers press lower, every high is a dumping opportunity.
For instance, despite bulls' confidence in the daily chart, prices are ranging inside the Jan 11 trade range. For trend continuation from the volume analysis point of view, a close above $170 will trigger an influx of buy orders nullifying sellers of Jan 11. On the reverse side, a sell-off below $110 may see a dump with immediate targets at $90 in a bear trend continuation. This will confirm sellers of Jan 10 and 11, correcting the over-valuation of early Jan 2020.
A close below the middle BB may favor sellers as it is the immediate support line. Aggressive traders may find entries to unload with targets at $110.
Disclaimer: Opinions expressed are not investment advice. Do your research.