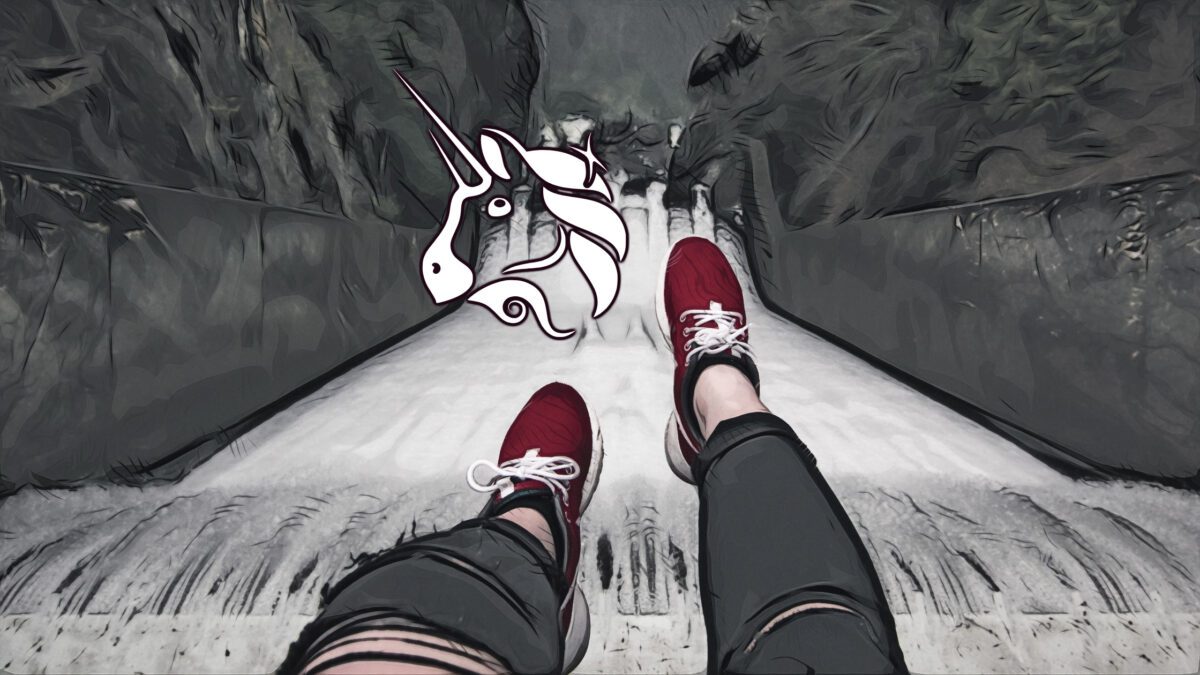 Uniswap is a classic project demonstrating the union's triumph over-centralization.
The DEX on Ethereum is one of the most valuable Decentralized Finance projects.
There has been re-arrangement on that effect, but the project's upsides are firm.
While dependent on the evolution of Ethereum, internal development would accelerate Uniswap's expanding gain of market share.
Uniswap Market Overview
Presently, UNI prices are under pressure, dropping five percent on the last trading day. There could be weakness reading from the development in the daily chart.
There is encouraging development in that UNI is trending within the August bullish bar, which is positive from volumes analysis.
Nevertheless, the beer bar of September 7 is setting the pace of price action, successfully clipping wings for a float higher high. In that case, the short-term seems to favor sellers.
The failure of Uniswap buyers to flow back and pump prices higher is a testament.
Furthermore, the series of lower lows deflates optimistic bulls, angling for rapid expansion above September highs to $43 and beyond.
Overall, Uniswap prices have a chance above $20. However, if UNI bears press lower and the critical support fails, the possibility of Uniswap shrinking towards $15—July 2021 lows—wouldn't be discounted.
Uniswap Market Movers
The DEX, as mentioned earlier, is the world's largest DEX.
At the time of writing, the protocol has a TVL of $4.7 billion, with daily trading volumes exceeding $259 million. Although there has been a contraction, this highlights just how popular the project is and the project's decision to directly list on Uniswap without paying fees—like it was the case years back.
Ethereum does set the pace for Uniswap adoption. In that case, Uniswap plans to adopt Layer-2 to help ease and bring down Gas fees.
Currently, Uniswap is being trialed on Optimism but is also considering Arbitrum, which is now live on the mainnet.
Data indicates that Uniswap is one of the top contributors of the over $930 million of ETH destroyed as BASE FEE following the activation of EIP-1559. Others are OpenSea (NFTs) and ordinary ETH transfers.
Besides, the innovation of Uniswap v3 introducing interesting features like concentrated liquidity for efficiency and Liquidity NFTs would open up more demand for UNI as adoption picks up. Thus far, there is $2.5 billion of TVL in Uniswap v3 with a majority in Ethereum then Arbitrum and Optimism.
Uniswap Price Analysis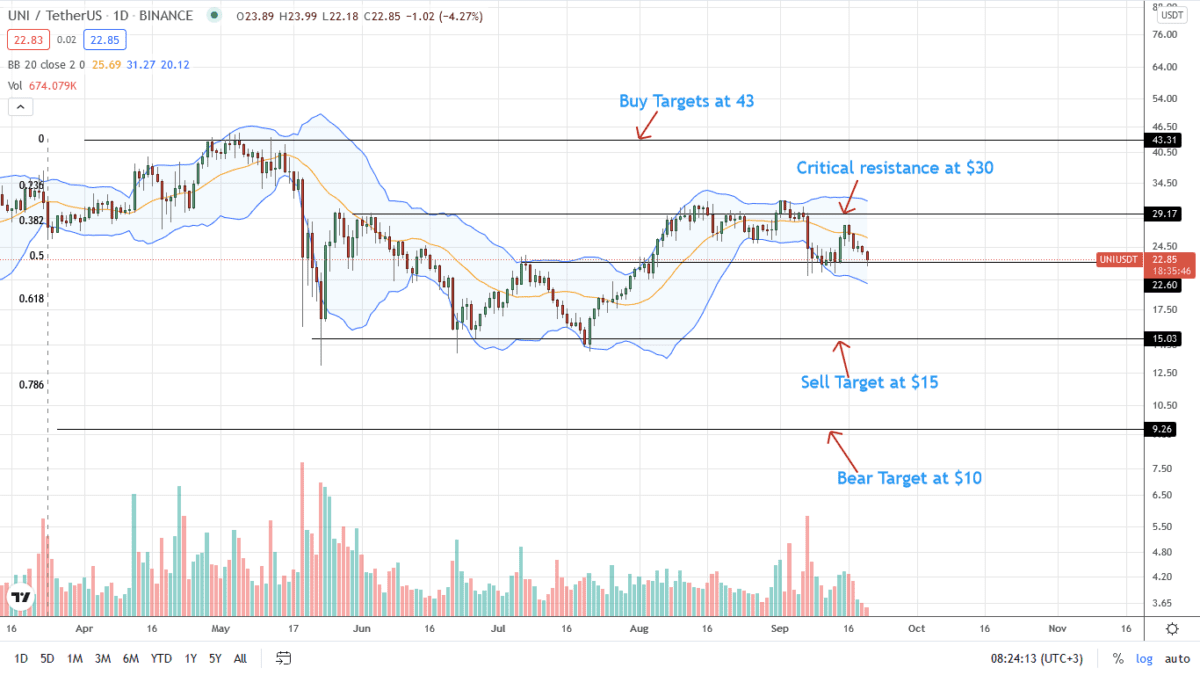 The UNI price is down five percent on the last trading day inside a wider-ranging bear candlestick. Technically, the UNI price is bearish unless a sharp upswing above $31 and August 2021 highs prints.
In this eventuality, the UNI price might expand towards $43—all-time highs to continue the August uptrend.
On the flip side, UNI sellers might push the coin below $20 and September 7 lows in a healthy correction despite general Optimism. If that happens, Uniswap prices may crater to $15, retesting July 2021 lows.
Disclaimer: Opinions expressed are not investment advice. Do your research.