The Bitcoin price remains wavy, oscillating within a $7k range with caps at $50k and $57k.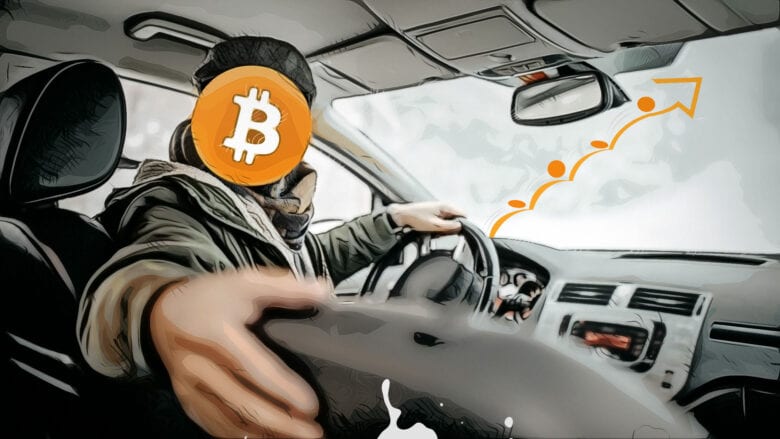 As of writing on March 30, the world's most valuable currency is paring losses against an equally resurgent greenback but gaining versus a tepid ETH. Month-to-date, the BTC price is up 17 percent, pointing to the direction of the primary trend and offering guidance for traders.
From the daily chart, the BTC/USD price is oscillating with relatively flat trading volumes. On the previous day of trading, the average daily volume rose two percent, pushing volumes to $53 billion and a market cap of over $1 trillion.
Bitcoin is the most capitalized and liquid at this valuation, partly explaining the gravitation from investors, including some governments and deep-pocketed institutions.
Bitcoin Price Overview
The Bitcoin uptrend is firm, and buyers are in control at spot rates of over $55k.
The region between $60 and $62k and $50k on the lower end is a vital reaction point for traders from the daily chart.
Specifically, $62k marks this March 2021's highs while $50k is last week's low.
For trend continuation and shaking off late Feb 2021 bears, BTC bulls must first drive prices above $60k with relatively high trading volumes as BTC/USD snaps back to Dec to Feb 2021 trend. Accompanying volumes must be higher than those of late Feb 2021 as bulls unwind losses from an Effort-versus-Results perspective.
Gains above $62k opens BTC to $93k and $100k—as per Fibonacci extensions. On the other hand, losses below $50k are enough to force further liquidations towards $42k—or Jan 2021 highs in a retest.
Traders are overly confident, pumped by supportive fundamentals.
Bitcoin Market Movers
Triggering bulls are incoming news, including support from Tesla.
According to the electric car maker, BTC is now one of the accepted payment methods. Users can purchase brand new Tesla cars for around $49k, priced in USD terms. The good news is Tesla won't convert BTC to cash as other brands would. It is a statement of their long-term confidence in BTC now that they run a Bitcoin node.
Meanwhile, Bobby Lee believes the BTC/USD price will reach $100k. Talking to "Squawk Box Asia," the crypto supporter, however, thinks once the bubble burst, the crypto winter could be protracted, going on for years.
"It could go down by quite a bit, and that's when the bubble bursts. In the bitcoin crypto industry, we call it 'bitcoin winter,' and it can last from two to three years."
Bitcoin Price Analysis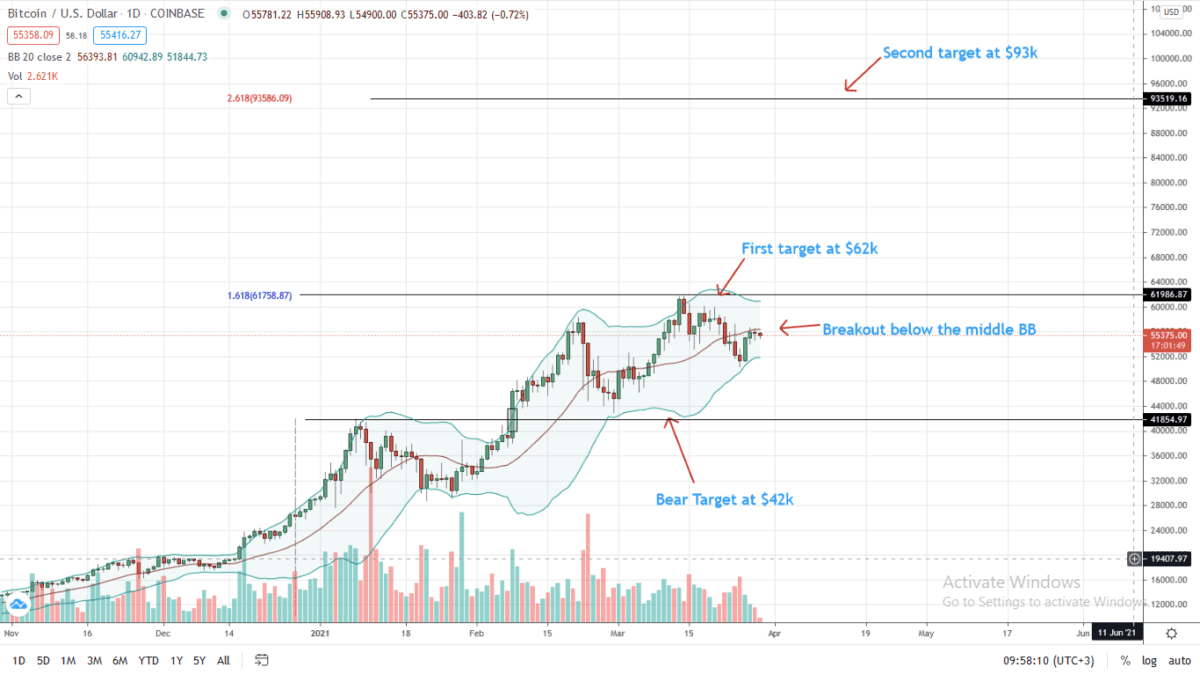 The BTC/USD path of least resistance is northwards, and buyers are in control.
Changing hands at over $55k, BTC prices are recovering and may print higher in the days ahead.
Technically, the BTC/USD price remains in range mode. Caps are at $62k and $50k, immediate reaction points.
A high volume push above $62k is enough to trigger a buying hysteria towards $93k, the 1.618 Fibonacci extension level of the Dec to Jan 2021 trade range.
On the reverse side, a sharp reversal below last week's low is enough to spark a sell-off towards $42k in a retest.
Accordingly, given the lack of developed direction in the immediate term, BTC/USD risk-averse traders can stay on the sideline until a definite trend forms.
Disclaimer: Opinions expressed are not investment advice. Do your research.