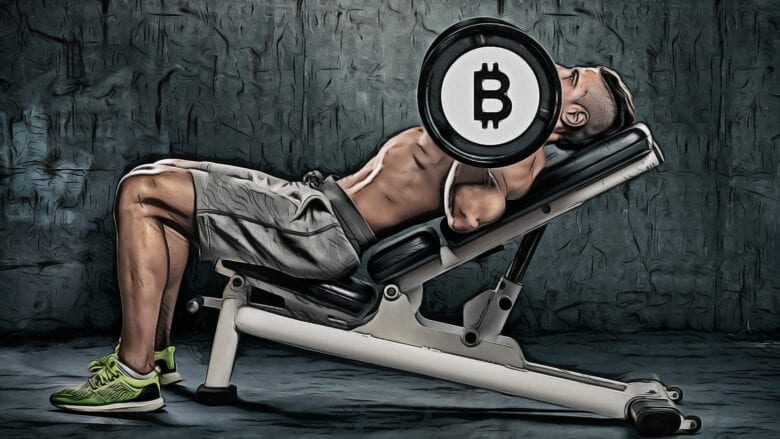 The Bitcoin price is under pressure, clinging above $30k as analysts say institutions are exhausted.
Fanning the surge of Bitcoin prices in H2 2020 was the dozens of high net-worth investors and institutions buying millions worth of BTC, integrating the digital asset as part of their new investment strategy.
As of writing on January 26, the BTC/USD price is steady above $30k but is weak, underperforming the XRP and ETH in the last week of trading. During this period, the digital gold fell seven and 19 percent against both the USD and ETH, respectively.
Accompanying the weekend's bounce are optimistic buyers. Despite the free-fall of prices last week, participation is within range, up slightly on the last day as the average trading volume remains above $47 billion.
Bitcoin (BTC) Price Overview
From a top-down approach, buyers are in control and may soak the last week's sell pressure.
Resistance is at around $42k, the coin's all-time high. On the lower end, there is a buy wall at around $30k, a psychological round number, a level that, if broken, could spark a selloff, forcing the BTC/USD price back to $20k.
In the intermediate-term, fundamentals will prop prices. More institutional purchases and bullish comments from influencers could pump prices above immediate resistance levels and $35k. This will be a breakout in the 4HR chart above a bull flag signaling buy trend continuation, a development that's enough to propel BTC/USD back to around $42k.
However, this is not discounting another possibility of a selloff below $30k and a continuation of Jan 21 liquidation. This may dump back the BTC/USD towards $20k in a retest and a breakout below the bull flag clear in lower time frames.
Bitcoin (BTC) Market Movers
Whether BTC prices will reach $42k—even $100k, is largely dependent on investors sinking their millions to the digital asset. The coin, unlike XRP, is a utility without a centralized entity.
Nevertheless, a cool-off from institutions may pour cold water on the current trend, forcing prices lower. According to analysts, the Bitcoin price could sink sharply due to institutional exhaustion, even with the Coinbase premium beginning to emerge.
Because of the USDT-USD premium, Bitcoin prices at Coinbase are higher than other USDT-paired exchanges like Binance. Miners and whales in Asia appear to be dumping their BTC. If institutions (whales), mostly from the United States, fail to step up, the over-supply could see BTC fall below $30k.
Bitcoin Price Prediction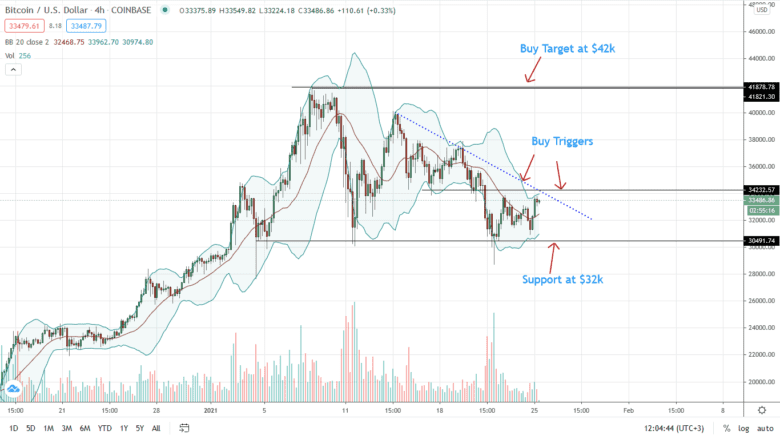 The path of least resistance for the BTC/USD price is southwards despite the recent bounce.
There are clear reaction points at $30k and $42k. In the short-term, traders should watch price action at $30.5k and $34k. These are support and resistance points that may determine the short-term price trajectory.
Overly, the BTC/USD price is in range mode in lower time frames, confined inside a bull flag in the 4HR chart.
For optimistic bulls, the prices may lift off towards $40k if buyers break above the bull flat's resistance trend line and $34k, preferably with high trading volumes.
Conversely, losses below $30.5k will be enough for bears to resume the trend as BTC crumble back to $25k.
Therefore, a break above $34k may present an opportunity for traders to load up the dips with a target of $42k.
Disclaimer: Opinions expressed are not investment advice. Do your research.