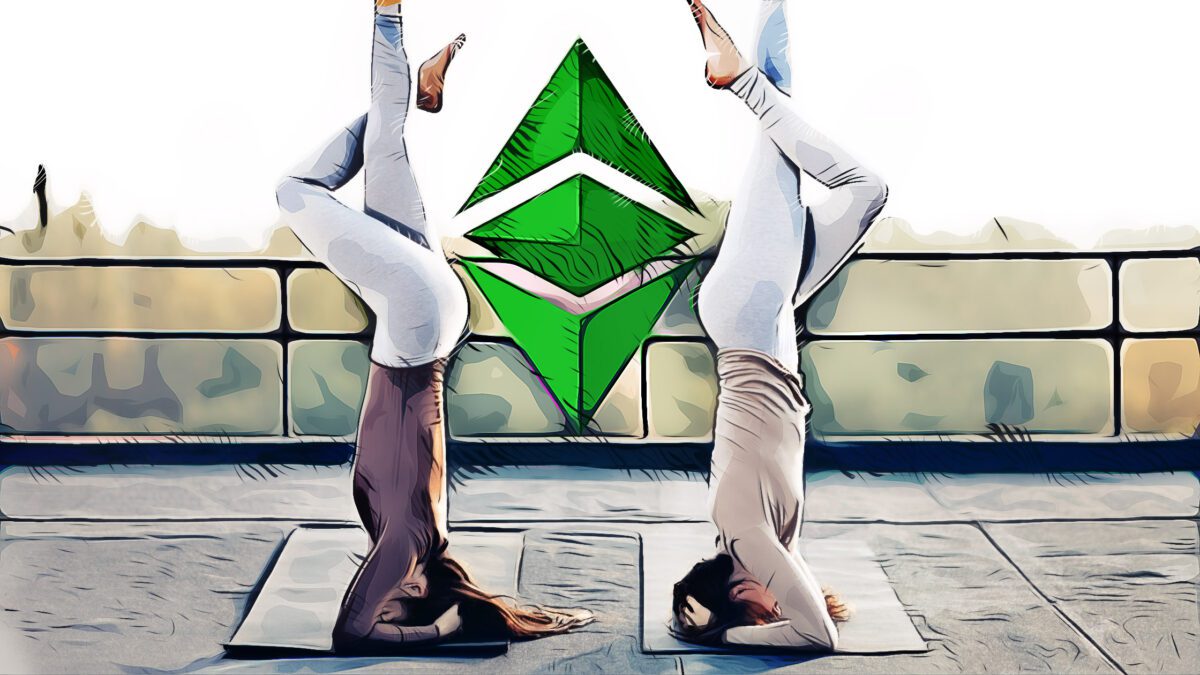 Ethereum Classic, for lack of a better descriptive term, is "one of those projects." It is applauded and criticized at the same time.
Sometimes at the fringes, the coin slides to be at the tail end of the top-40 crypto projects.
At other times, the ETC coin is one of the top performers. Like is presently the case.
Ethereum Classic Market Review
At 21st in the crypto market leaderboard, ETC is relatively firm and has already flipped some of the top crypto projects to be an alternative for Ethash miners gradually shifting their computing power from Ethereum.
It is highly expected that ahead of Eth2 migration, which happens in the next few months, Ethereum's hash rate will hemorrhage as most flow to the Ethereum Classic network—and Ethash alternatives.
Presently, the ETC bulls are struggling to sustain the uptrend but are relatively stable on the last trading day. The coin is down three percent versus the greenback on the previous day, falling roughly 10 percent week-to-date.
Mirroring this drab performance is shrinking trading volumes which are down over the last week of uncertainty.
All the same, ETC prices are trading above the main support trend line, defining ETC/USD price action in the last few months.
The significance of this loading level cannot be understated. Provided prices trend above this level; every low may provide entries for optimistic bulls.
Ethereum Classic Market Movers
Fundamentally, Ethereum Classic is well buttressed.
For smart contracting purists, the network is anchored on blockchain principles and is community-focused.
Where code is law, Ethereum Classic is dependable for dApps who simultaneously want to enjoy the interoperability with Ethereum and vibrancy of high participation.
As Ethereum prepares to shift to a staking network, the Ethereum Classic community continues to grow. There are now over 500k followers on Twitter supplemented by active engagement in other social media channels.
Meanwhile, Ethereum Classic developers are hard at work, building.
After successful hard forks—Thanos and Magneto—the team is now working on Mystique. This improvement enhances the level of interoperability with Ethereum by various opcodes from the former's London upgrade.
Once integrated, there will be maximum composability with the two networks, without the base fee changes—EIP-1559–and bomb delay as they don't apply to the Ethereum Classic blockchain.
Besides Mystique, the hot-fix security release of Ethereum's Geth clients was also made to Core-Geth nodes. Operators have been requested to upgrade Node software to v1.12.1.
Ethereum Classic Price Prediction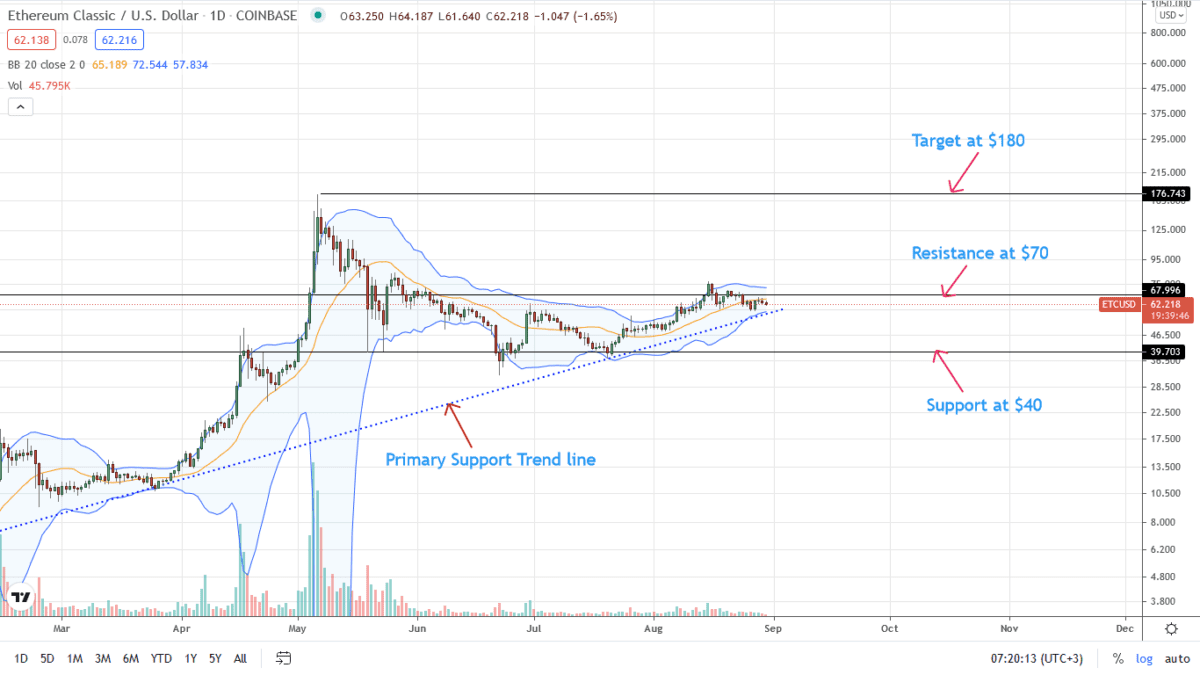 Technically, the uptrend is valid. Even so, the bulls' momentum is fizzling, reading from the tapering trade range and volatility.
After sharp gains in May, ETC bulls haven't been able to emulate such bursts in the recent past. Presently, Ethereum prices are within a tight trade range, an opportunity that traders might exploit as long as prices are above the primary support trend line.
A close above the 61.8 percent Fibonacci retracement level of the H1 2021 trade range at $70 could open doors for ETC buyers targeting $180—2021 highs.
Conversely, a dip below last week's lows and the support trend line at around $55 could trigger a wave of lower lows to July 2021 lows of about $40.
Disclaimer: Opinions expressed are not investment advice. Do your research.