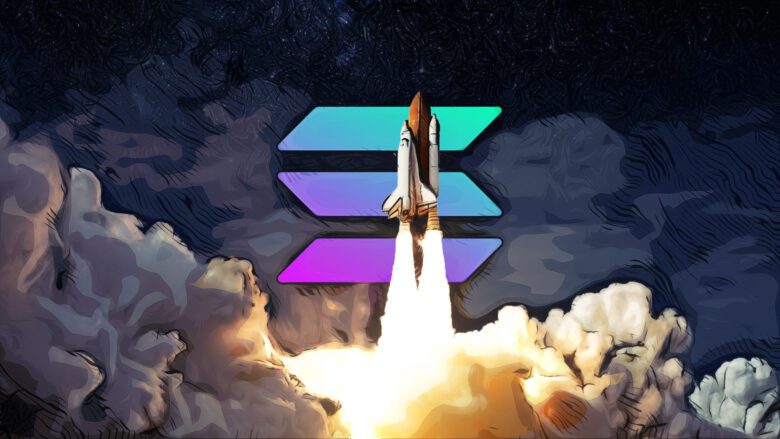 An updated Solana price prediction is here! SOL crypto price is trading at around new all-time highs, above $75. Where will it go next?
Solana's rapturous gains caught many crypto fans by surprise.
At the time of writing, SOL—the native coin of the highly scalable network, is up 20 percent versus the greenback, equally outperforming Bitcoin and Ethereum in the same time frame.
With tremendous gains, the coin also has a spot in the top 10 by market cap.
Solana (SOL) Market Overview
Come what may, Solana's surge is nothing but impressive.
The double-digit gain in the last week of trading and its outperformance of an equally resurgent BTC is a feat worth lauding.
From the Solana technical analysis in the daily chart, it is clear that the path of least resistance is northwards.
For the first time since launching in 2019, SOL crypto price is trading at around new all-time highs, above $75.
The odds of SOL bulls flowing back are dependent on fundamental factors—like DeFi expanding, and more project's opting to adopt Solana's rails.
From the coin's candlestick arrangement, though, buyers are firm, trading in a bullish breakout pattern with a notable uptick in trading volumes.
The latter measures interest whilst also gauging the underlying strength and volatility.
Solana (SOL) Market Movers
The project's edge lies in its ability to focus on providing solutions to existing pain points.
Their objective, reading from its whitepaper, is to remain highly scalable and secure without compromising decentralization.
To achieve this near-ideal goal, they implement a hybrid consensus algorithm.
Solana's homepage got a makeover:
Meanwhile, Solana's community is growing with over 400k Twitter followers:
Solana is also keen to see its ecosystem grow. Recently, the foundation awarded InsureAce Protocol with a development grant. The project seeks to offer full-spectrum, multi-chain insurance services to DeFi dApps.
The objective is to see the number of projects using its rails increase. With the project on board, it will offer insurance services to projects plugged into Solana. Already, the protocol covers Raydium and Serum.
Solana Price Prediction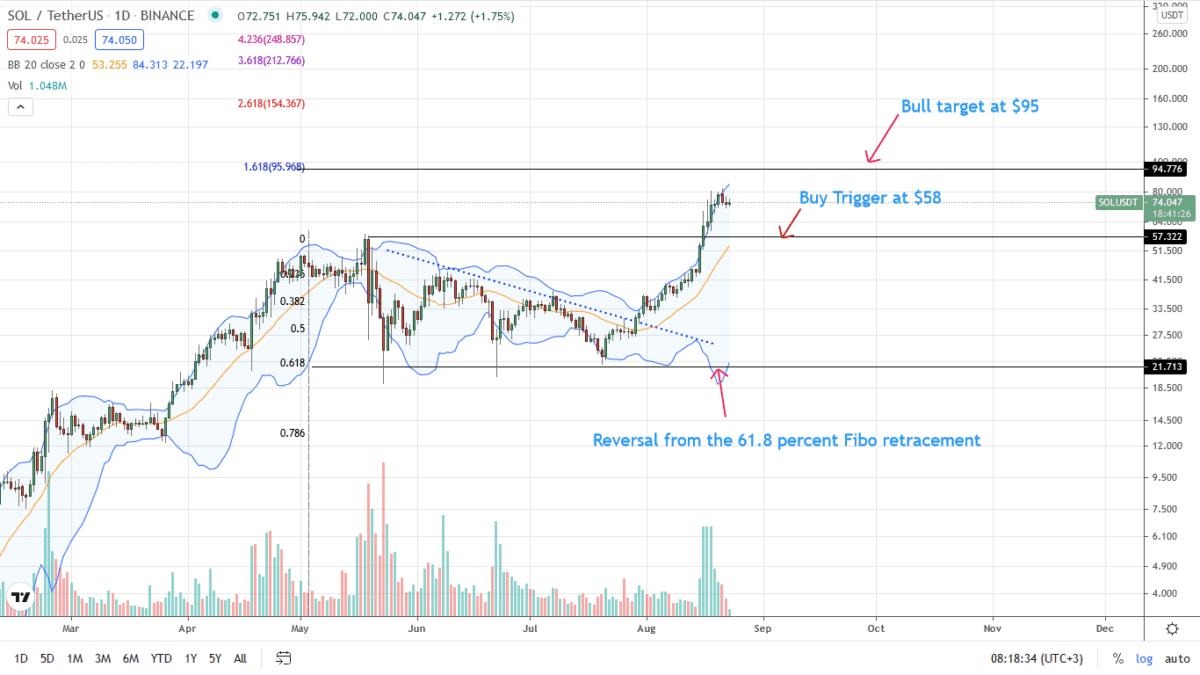 The SOL Price is in an uptrend, reading from Solana technical analysis in the daily chart.
Adding an impressive 20 percent week-to-date, the path of least resistance is northwards.
As a result of this formation, every low could be a loading opportunity. Presently, there is a taper in momentum and trading volumes following sharp gains of the past three weeks.
It could indicate a peak.
However, for affirmation, sellers must confirm the bearish engulfing pattern and the double bar bearish reversal pattern of August 20 and 21.
In that case, the uptrend will only be valid if there is a break and close above last week's highs of $82.
That could ignite another wave of higher highs towards the 1.618 Fibonacci extension level of the H1 2021 trade range.
If this target is hit, SOL bulls would have surged by more than 4.5X after bottoming up in $20—the 78.6 percent Fibonacci retracement level of the same trend line.
On the flip side, a deeper contraction below $65 may see the coin retrace back to $60 in a retest.
Disclaimer: Opinions expressed are not investment advice. Do your research.