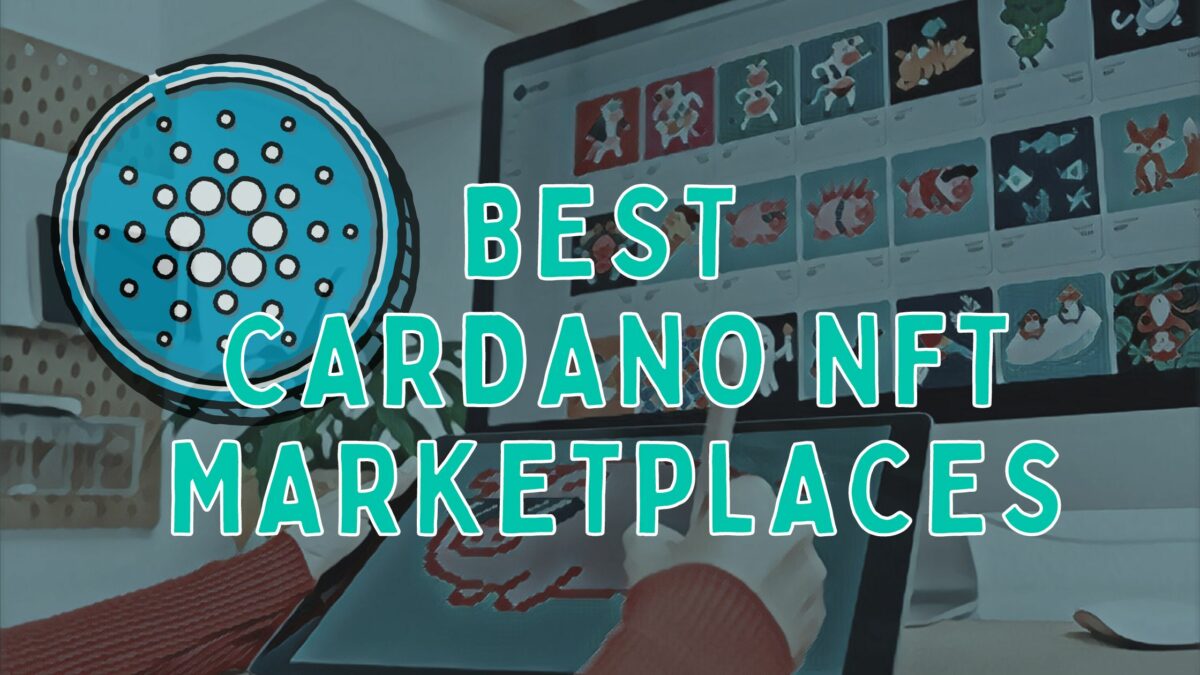 One blockchain that has been making waves in the NFT space is Cardano. Cardano is a decentralized platform that strives to create an equitable and open financial model, making it a perfect fit for Non-Fungible Tokens (NFTs) with its powerful smart contract capabilities.
When getting started trading NFTs on Cardano, you must first get familiar with the marketplace options that are out there. This blog post will look at the best Cardano NFT marketplaces currently available and what makes them stand out.
What are NFTs?
Non-fungible tokens, otherwise known as NFTs, have been rapidly gaining traction and becoming ultra-popular among digital asset enthusiasts. Possessing unparalleled digital items, such as art pieces, collectibles, or virtual real estate, is now within your reach due to blockchain-backed non-fungible tokens! These specialized digital assets store the ownership details of one-of-a-kind goods on a secure ledger.
What is Cardano?
Cardano is a public blockchain platform built on the proof-of-stake consensus protocol and has become one of the most popular platforms for creating non-fungible tokens. The native token for the Cardano ecosystem is ADA. It offers a secure, fast, and reliable environment to create, trade, and store NFTs.
What are Cardano NFTs?
The main purpose of Cardano NFTs (also known as CNFT) is to provide a platform for digital asset owners to tokenize their content. With Cardano, users can create unique digital tokens representing any asset, such as artwork, music, and videos. Furthermore, these tokens are immutable and securely stored on the blockchain, giving them a high level of security. To access and manage your Cardano NFTs, you will need to setup your Cardano wallet.
What is a Cardano NFT Marketplace?
Cardano NFT marketplaces are digital environments where users can buy, sell, or trade non-fungible tokens. These tokens are unique and immutable representations of digital assets, and they are based on the Cardano blockchain.
What are Cardano NFT Royalty Fees?
Cardano NFT royalty fees are the portion of profits that an NFT creator receives anytime their artwork/NFT is sold or traded on a secondary market. These royalties can be customized when creating the NFT and range from minimal to significant percentages of the resale value. Such fees, also known as "smart contract royalties," are coded into the smart contract issued with each original minting. These fees go to the digital asset creators, allowing them to make money from their content even after it has been sold or traded. It may be worth noting that NFT royalty fees exist on most other blockchains and are not unique to the Cardano network.
The Best Cardano Marketplaces for NFTs
Cardano has quickly become one of the most popular platforms for creating and trading NFTs, and there are now several fantastic marketplaces to choose from. Here are some of the best Cardano NFT marketplaces currently available.
1. JPG.store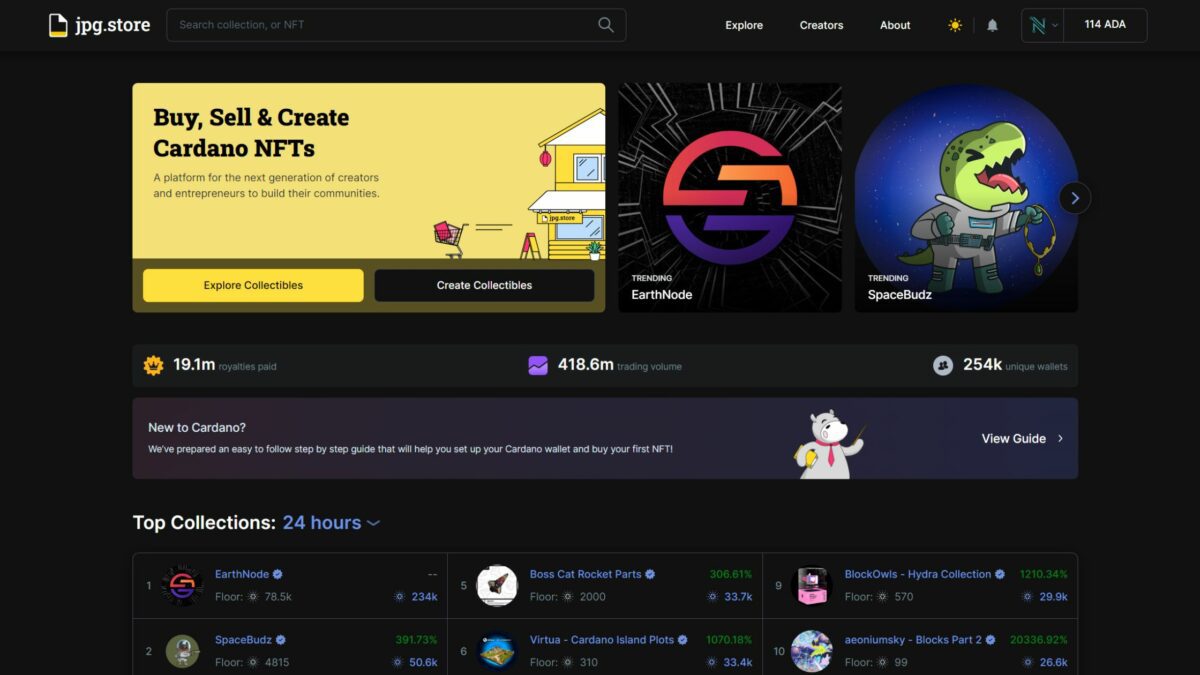 What is JPG.store?
JPG.store is a marketplace for buying, selling, and trading digital assets (such as art, music, videos, etc.) on the Cardano blockchain. It's been around since 2020 and has become one of the most popular marketplaces for NFTs. In addition to offering great security features for its users, JPG.store also has an intuitive user interface, making it easy to use.
Buying Cardano NFTs on JPG.store
JPG.store was the first multi-collection NFT marketplace to implement Cardano smart contracts. With Cardano smart contracts, buying, selling, and trading digital assets are safer and more secure than traditional methods. Besides purchasing NFTs with Cardano's native token ADA, JPG.store recently introduced the ability to acquire NFTs with the Ethereum (ETH) and Solana (SOL) cryptocurrencies. But that's not all! They even support credit cards as a payment method too.
What are the fees for using JPG.store?
At JPG.store, they charge a 2% fee on all sales. In addition to that, other operations on the platform may incur charges. Here are additional fees you may incur while performing other actions on JPG.store.
~1.5ADA to list an asset on the smart contract
~1.2ADA returned when the asset is delisted
~0.25ADA to update assets that are listed on the smart contract
Cardano Wallets Supported by JPG.store
As of writing the article, JPG.store, support the six Cardano wallets – Nami, Eternl, Flint, Gero, Typhon, and NuFi. You can also use a hardware wallet with JPG.store to be extra safe.
There is much to like about JPG.store. Not only is it easy to use, but it also offers excellent security features and various payment methods. For these reason JPG.store out top Cardano NFT marketplaces. If you are looking for an all-in-one Cardano marketplace for NFTs, JPG.store is certainly one to consider.
2. CNFT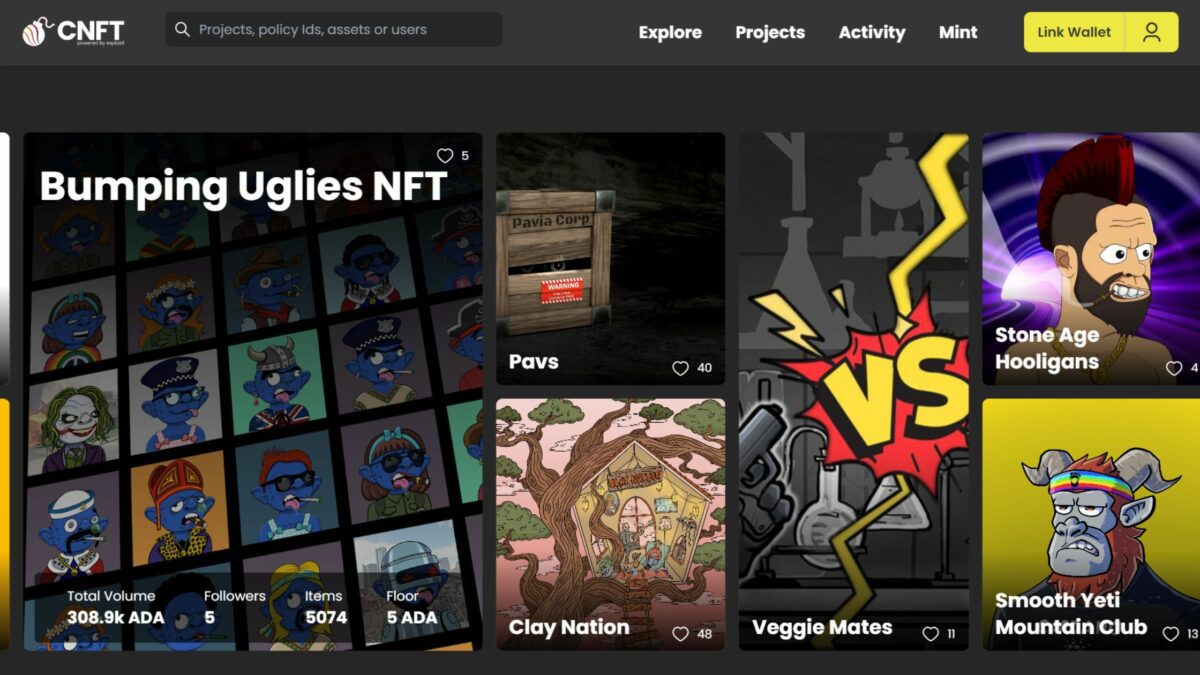 CNFT.io is a marketplace for NFTs that operates on the Cardano blockchain. It allows users to mint, buy, sell, and manage their NFTs in a user-friendly environment. The platform was launched in July 2021 and is officially the first NFT marketplace on the Cardano blockchain. The team behind CNFT.io is decentralized worldwide, and they plan to continue adding new features over time.
Buying Cardano NFTs on CNFT.io
To purchase Cardano NFTs with CNFT.io, you must have ADA in one of the compatible Cardano wallets. Don't forget that a small extra amount is necessary for transaction fees! The platform also provides a rewarding program for its users. By buying or selling on their marketplace, you can earn $CNFT tokens!
What are the Trading Fees on CFNT.io?
When trading an NFT on the CNFT.io marketplace, they charge a fee of 2.5% or a 1 ADA minimum fee. As a general note, NFT traders may want to keep in mind that most NFT creators claim royalty fees as a percentage of the sale price for all trades of their NFT collection.
Cardano Wallets Supported by CFNT.io
CFNT.io supports the widest variety of Cardano wallets on its platform. So, if wallet decentralization matters to you, CNFT.io is your spot with a whopping number of 8 wallets. As of writing the article, they support Nami, Eternl, Flint, Gero Typhon, Nufi, and Begin wallets.
CFNT.io has been one of the most consistent and reliable Cardano NFT marketplaces on our list. The trading volume of the platform is also very impressive, and it's easy to find active auctions. The user interface of CFNT.io is modern, smooth, and optimized for both desktop and mobile devices. If you decide to begin your journey with this NFT marketplace, you won't be disappointed.
3. Tokhun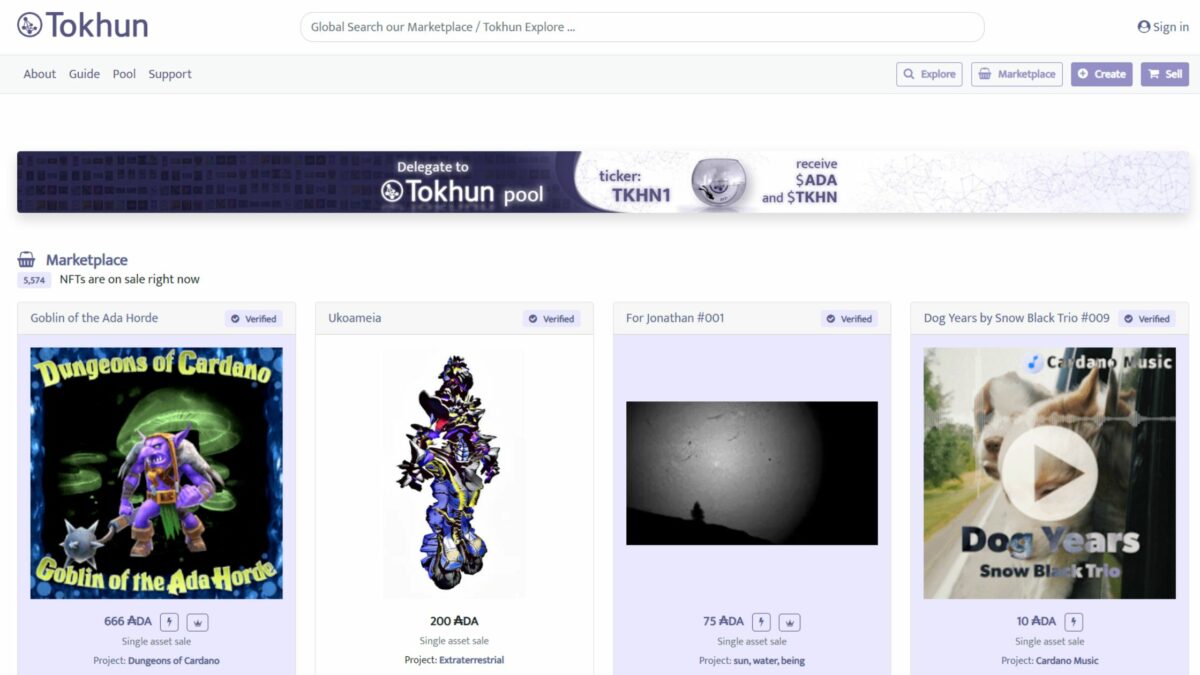 What is Tokhun.io?
Tokhun.io is a state-of-the-art NFT marketplace proudly operating on the Cardano blockchain since March 2021, following the Mary hard fork. Tokhun presents all one needs to mint, buy, sell and manage tokens easily.
Buy Cardano NFTs on Tokhun
In addition to the usual processes for buying and selling Cardano NFTs, Tokhun stands out with the many features that it delivered to the market first, such as NFT bundles. Bundles allow users to purchase multiple NFTs at once, packaged together by the seller.
What are the Trading Fees on Tokhun?
Overall, Tokhun has one of the higher trading fees on the Cardano blockchain for NFT trading. The fees are higher than both JPEG.store and CNFT.io. In addition, other charges may be associated with the transactions or interactions with smart contracts on the Cardano network.
2 ₳DA per single unique NFT and FT (regardless of the total supply)
2.5% or 2.00 ₳DA Sales Commission (whichever is higher)
Cardano Wallets Supported by Tokhun?
Unfortunately, Tokhun does not support external wallets on its platform for NFT trading. Instead, they generate a hot wallet associated with your Tokhun account. You will need to use the provided wallet to buy, sell and manage your Cardano NFTs. Always remember to be safe when using a wallet that is not in your control. Not your keys, not your coins or NFTs!
Overall, Tokhun won't be our first choice to trade NFTs actively. However, if the price is right, a quick exchange of ADA for an NFT may be decided at the time of FOMO. Again don't forget to transfer your NFTs off the provided hot wallet to a Cardano wallet that you setup and control. It's not meant for storing NFTs. The consequence of leaving them there may be gutwrenching.
Tokhun constantly evolves and improves, with new features and upgrades continually added. The platform is dedicated to pushing the boundaries of what's possible with NFTs, making it a suitable choice for seasoned NFT enthusiasts.
4. Spacebudz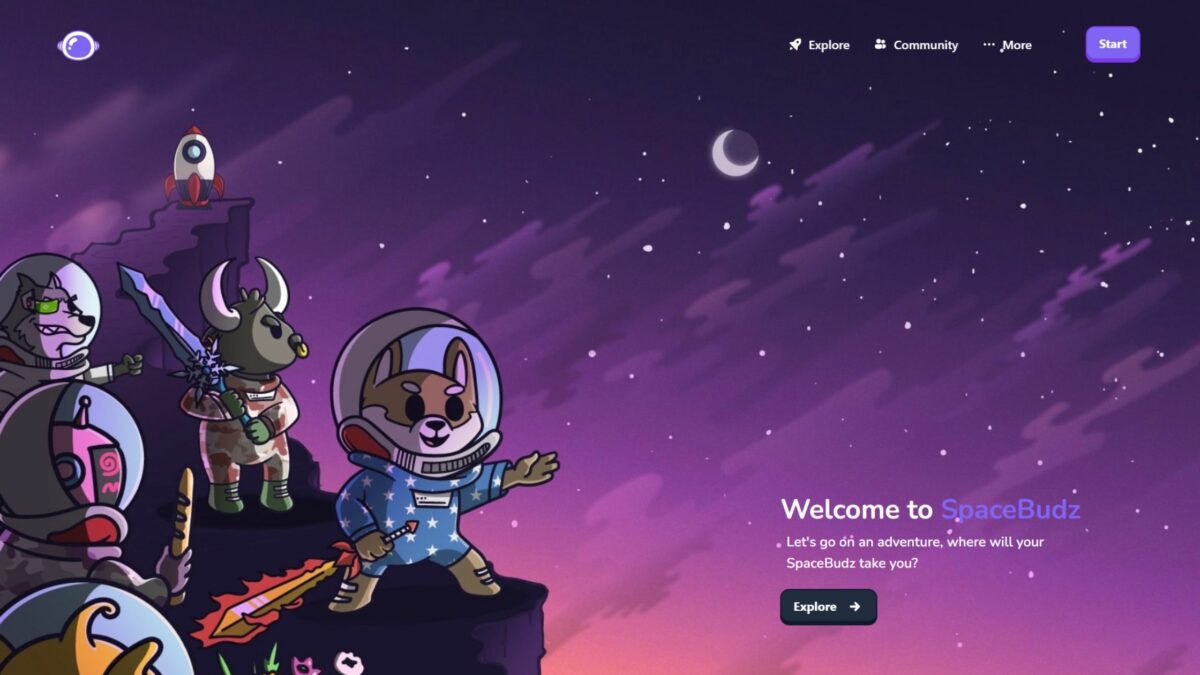 Though this is not a multi-collection NFT marketplace, it just wouldn't feel right if we didn't mention the Spacebudz NFT marketplace. SpaceBudz is a project launched on the Cardano blockchain in March 2021 by founders Zieg and Alessandro.
The NFT quickly became a beloved project within the Cardano community. One of the reasons for its popularity is the pioneering work they have done in the world of Cardano NFTs, including minting one of the first Cardano NFT collections and creating the NFT metadata standard. In addition, SpaceBudz launched the first fully smart contract-based marketplace.
In addition to their passion for crypto, Zieg and Alessandro were intrigued by Cardano and its technology. They have always tried to do things the right way, which is why their work is open-source. Decentralization is a key value for SpaceBudz, and the team is committed to preserving this at the core.
Additional Cardano NFT Marketplaces
For now, those are the Cardano NFT marketplaces we reviewed and used. However, there are other platforms that didn't make our top list but could be worth mentioning.
5. ADANFT
Unlock the full potential of Cardano's NFTs with ADANFT, an ultra-exclusive marketplace brought to you by AdaSwap. In addition, ADANFT has instituted a voting and tier system that ensures only top-notch content is showcased on our platform.
6. Cardahub
Cardahub claims to offer the most advanced NFT services on Cardano Blockchain. Cardahub is a versatile and flexible platform for trading Cardano NFTs that provides a wide range of features to suit the needs of different types of users. One of the standout features of Cardahub is its compliance with the EIP-721 and CIP-25 standards.
7. Galaxy of Art
Galaxy of Art is a sustainable digital platform for Cardano NFTs that facilitates the prosperity and happiness of creative minds across the globe. The GOA NFT marketplace has many great features that allow its creators to buy, sell, hold, mint and auction NFTs.
Considerations for Choosing the Best Cardano NFT Marketplace
Choosing the right Cardano NFT marketplace for yourself can be daunting, but knowing what features and considerations are important can help make the process easier. Here are some essential factors to consider when looking for the best Cardano NFT marketplaces.
Fees and Commissions
The fees and commissions charged by a Cardano NFT marketplace will directly impact your profits. Therefore, it's important to compare the fees between different NFT marketplaces to ensure you're getting the best deal available. From the information provided by the Cardano NFT marketplace website, JPG.store has the lowest and most transparent fee structure.
Easy to Use and Good User Experience
Once you start your NFT collection, you will be spending hours on these Cardano NFT marketplaces. Therefore, you want the experience to be smooth, enjoyable, and easy to use. Look for platforms with user-friendly interfaces, an intuitive design, and clear navigation.
Top Cardano NFT marketplaces should provide good customer support in case you have any questions or issues.
Another UX factor to notice on NFT platforms is the image quality of the NFTs. So naturally, you want to see clean and clear visual images that can be enlarged for detailed viewing. Also, a good NFT marketplace will display valuable statistics about the NFTs and collections. These statistics will be helpful to you when making purchases or sales decisions.
As an added tip, try reading customer reviews on forums such as Reddit and Quora to understand the NFT marketplaces and how their users perceive them.
Security and Reputation
In order to be reviewing the best Cardano NFT marketplaces, the importance of security and reputation can not be overstated. For example, look for platforms that use two-factor authentication or multi-signature wallets to protect your funds and personal data. Additionally, selecting a platform with a good reputation in the NFT community is important.
For instance, when writing this article, Tokhun only allows trading with the hot wallet they provide you. Secondly, it only allows users to log in with Google and GitHub authentication. If Tokhun ever gets compromised, the bad actor could possess your email address. Then you will be subject to extreme fishing attacks.
Selection and variety of NFTs
Another factor to consider is the selection and variety of NFTs available on a Cardano NFT marketplace. Look for platforms that offer a wide range of different types of NFTs, from art and collectibles to gaming assets. Some platforms also support audio and video NFTs. You also want a platform that has an active trading community so you can buy or sell your desired NFTs quickly. In other words a high-volume trading platform.
Conclusion
Choosing the best Cardano NFT marketplace is an important decision that requires careful consideration. We suggest you weigh all the factors discussed in this article before selecting a platform. Currently, there aren't many options to choose from, but from the top platforms, you can research and compare features before making your final decision.
For many people, one is just not good enough. Users may get drawn to different platforms for different reasons. At Hodlin, our two favorite platforms are JPG.store and CNFT.io, and we use them both. We found both enjoyable and haven't had any issues performing our usual "degens" activities.
However, if we could only choose one NFT marketplace, then JPG.store would be the winner! It has a lower fee structure, excellent user experience, suitable security measures, and a wide selection of NFT collections, making it the most attractive choice.
It's advisable to start small and gradually build your experience with Cardano NFTs. We hope this guide on the best Cardano NFT marketplaces gave you some valuable information about for your Cardano NFT journey. Good luck with your NFT collecting or trading, and don't forget to enjoy it!