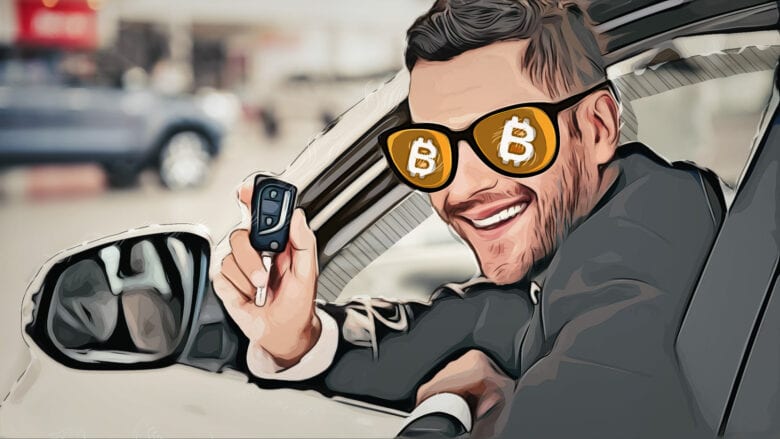 Today, anyone can purchase all kinds of things using cryptocurrency, from online gift vouchers to holiday tickets. The auto industry is also getting involved with cryptos, and many people are wondering how to buy a car with cryptocurrency?
Can I Buy a Car with Cryptocurrency?
Yes! You can buy a car with cryptocurrencies. In fact, it's pretty simple to buy a car with Bitcoin as well as other cryptocurrencies through a cashout method. Just sell your tokens on an exchange that supports fiat currency, have the proceeds sent to your bank, and buy anything you like – a car included.
However, this solution, at this point, appears to be less popular with crypto holders and investors. Some people want to make a direct transaction for a car with cryptos, and in some cases, this is possible. In others, there are intermediaries that can make the purchase happen.
How to Buy a Car with Crypto?
Let's have a look at the 3 main ways to buy a car with cryptocurrencies!
Cashout of Cryptocurrencies
Direct Transaction With a Car Dealership
Buying Cars Like Tesla Directly Using Cryptos
1.

Cashout of Cryptocurrencies
If you are sitting on a pile of Bitcoin, or any of the other major tokens, you could use it to buy your dream car. The easiest way to make the purchase may be to sell the tokens for cash directly, meaning sell your Bitcoin to cash through a traditional regulated exchange.
To convert Bitcoin into cash, you need to have a bank account, and be willing to pay some taxes on your crypto gains. The drawback of this method is that the processing cost can be high, and you will certainly be hit with a tax bill. Here are some crypto tax tips that will help you when the time comes to pay your taxes.
Another issue is the possibility of problems cashing out a large sum with an exchange, but if you deal with reputable exchanges, this probably isn't going to be a problem. You will for sure be exposing your wallet address, so a cashout isn't an ideal option for users who want to stay as anonymous as possible.
On the plus side, you will be able to buy any car you like with the proceeds of your transaction, as you would be holding a pile of fiat currency, which every car dealer out there will accept.
2. Direct Transaction With a Car Dealership
A crypto cashout may give you the most flexibility in terms of what car you buy, but dealing directly with car dealerships is probably going to be a lot more convenient.
The first step is to find a car dealer that embraces cryptocurrency as a form of payment in the auto market.
Even back in the heady days of the 2017 Bitcoin rally, were already groups of car dealers that understood the value of cryptos and accepted bitcoin as well other cryptocurrencies as a payment method.
Due to the price volatility and the lack of trust in the new tech, a limited number of auto dealers accept cryptocurrency in any given city or state. This will probably change as more people hold and pay with tokens.
At the moment, you will have to do some research before you head out to buy a car with cryptos.
Before going to any dealership, you should shop around and do some research. Make sure the dealer you are talking to will accept cryptos, so you don't waste anyone's time.
One of the issues with Bitcoin and other cryptocurrencies is the lack of official regulations, which means this type of transaction isn't the most common. Cryptos are also taxed differently than cash in many nations, which adds another layer of complexity to the transaction.
Any car dealership that works with tokens will understand how the deals need to be structured and that doing an auto for crypto deal isn't going to be the same as using fiat currency.
Once you have found a dealership that is willing to accept cryptos, the rest of the transaction is going to be the same as any other purchase. Just make sure to talk to your accountant, as you will have to declare the sale of the cryptos you used to buy that new car.
3. Buying Cars Like Tesla Directly Using Cryptos
Some auto companies will be accepting Bitcoin and other cryptocurrencies as a form of payment. Among these names, the iconoclastic electric vehicle company, Tesla, has made a market-shaking move.
Specifically, Tesla will let customers buy electric cars with Bitcoin. Following a huge on-market purchase of Bitcoin, Tesla now accepts payments in the virtual currency for its auto products.
Before Tesla, many major brands allowed customers to buy products with Bitcoin through third-party processors, but it seems the US electric car maker will accept direct Bitcoin payments as part of its plan to add cryptocurrency to its portfolio.
Buying a car directly with Bitcoin is much easier for customers, and if Tesla is successful, other companies may follow suit. While Tesla has told the media that their move to accept Bitcoin directly is coming, the specifics of how the system will work haven't been shared publicly.
To date, Tesla is the only major auto manufacturer to announce the addition of Bitcoin as a payment method, so making direct payments with cryptos to auto companies is likely to be a limited way to buy autos in the near future.
Which Way Works for You?
To be sure, there are ways to buy a car using cryptocurrencies. As we mentioned above, the direct cashout will give you the most flexibility when it comes to who you deal with when buying a car and will allow you to buy any car that is on the market.
It is very important to look into the tax implications of making a major purchase with cryptos, as there can be major tax implications for anyone who uses cryptos as cash.
These tax liabilities may also apply if you buy a car directly from a dealer, so make sure you understand the structure of the deal, and how it will impact your bottom line.
The good news is that cryptocurrencies are becoming more popular all the time, so in the coming years, there are likely to be more options for cryptos users, including a more mature market for cryptocurrencies in the automotive sector.
Sources