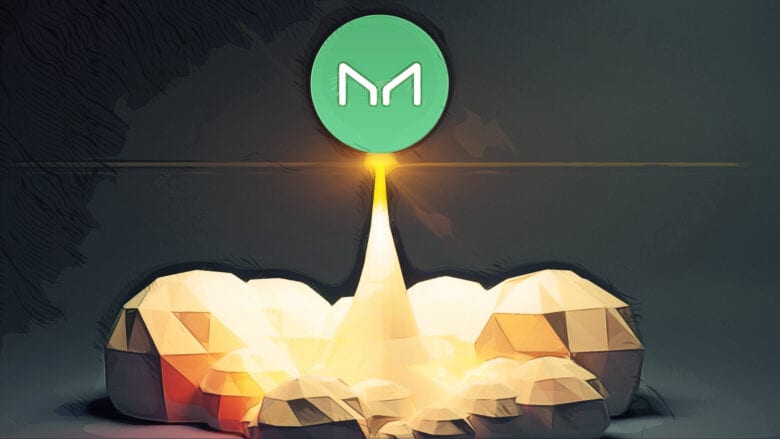 The crypto market and Maker prices are bouncing back.
Although gains are fleeting and discouragingly short-lived, falling short at critical resistance levels, developments in the last few days could be indicators of what's ahead based on Maker price analysis shows.
From the Maker daily chart, for example, it is easy to pick out bullish attempts.
Maker Market Overview
Indeed, after protracted periods of lower lows from early May and confirmation of mid-May to late June 2021, Maker holders were pushed to the wall. For perspective, the dips of May and June wiped over 70 percent of Maker gains of H1 2021.
MKR/USDT prices found support at the 78.6 percent Fibonacci retracement level of the H1 2021 trade range, rebounding to the current rate.
However, Maker bulls are struggling to shake off determined sellers. Even with a close above $2.7k and the 20-day moving average, it isn't with high trading volumes.
At the same time, MKR prices remain range above $2.7k and below the $3k round and psychological round number.
This may be a marker, a disappointing pointer of a lack of conviction, bulls' exhaustion, or tapering momentum that can't sustain the uptrend.
Maker prices are uncharacteristically moving inside a $600 zone with low participation levels translating to low volatility at the time of writing.
MKR is stable against the USD, slowed down by trading volumes which are stable at around $95 million on the last trading day.
Maker (MKR) Market Movers
Maker is a lending and borrowing platform. Users can deposit supported tokens and receive a passive yield.
At the same time, loans can be extended provided that borrowers over-collateralize.
The system also manages the DAI algorithmically issued stablecoin. USDC currently backs 60 percent of all DAI.
In this self-adjusting, smart contract-powered system, MRK governance tokens serve as the credit line of the last resort in case of an unexpected system disturbance.
Maker currently manages over $6.5 billion of assets, according to Defi Pulse. However, DeFi is yet to recover following steep losses of Ethereum and ERC-20 tokens Q2 2021.
A rejuvenated ETH would lift DeFi, pumping Maker prices as a result. Already, ETH whales are positioning themselves for gains ahead of the London Upgrade set for early August 2021.
Even in this meltdown, MKR/USDT prices were robust, absorbing sell pressure satisfactorily:
Maker Price Analysis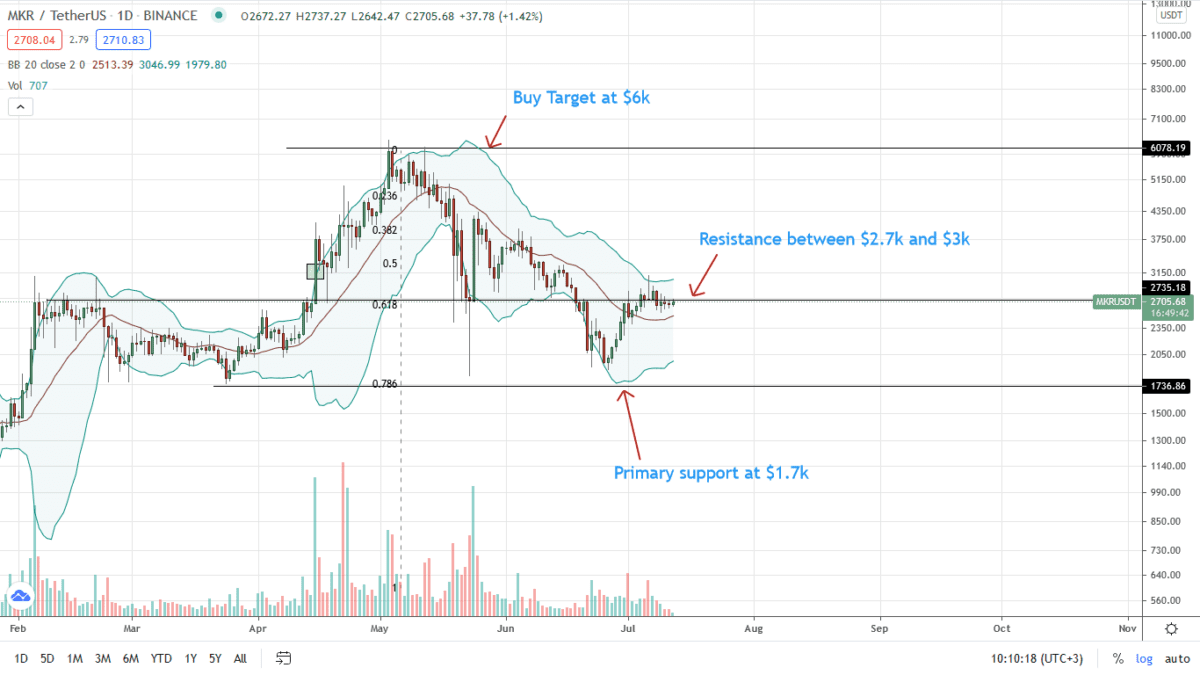 From the daily chart, MKR/USDT prices remain in range, with caps at around $2.8k on the upside.
MKR price is up to three percent on the last day, trading above the middle BB and $2.7k.
For buy trend continuation, MKR bulls must close above the 61.8 percent Fibonacci retracement level of the H1 2021 trade range—or $2.8k—if prices are to float back to $6k—or better.
Ideally, a confirmation will be a high-volume bull bar blasting above $2.8k, rewinding sellers of June 21, and shifting price action in favor of bulls from an Effort-versus-analysis perspective.
Conversely, the failure of MKR bulls to grind higher opens up price action for resumption of bears and $1.7k.
Disclaimer: Opinions expressed are not investment advice. Do your research.